Companies by Sector
More than 6000 listed
Communication Services
Telecommunication Services
Consumer Cyclical
Advertising & Marketing Services
Furnishings, Fixtures & Appliances
Homebuilding & Construction
Manufacturing - Apparel & Accessories
Manufacturing - Apparel & Furniture
Retail - Apparel & Specialty
Consumer Defensive
Beverages - Non-Alcoholic
Financial Services
Diversified Financial Services
Healthcare
Healthcare Providers & Services
Medical Devices & Instruments
Medical Diagnostics & Research
Medical Instruments & Equipment
Industrials
Farm & Heavy Construction Machinery
Transportation & Logistics
Utilities
Utilities - Independent Power Producers


	Image Credit: Thomas Altfather Good (Flickr)
Inflation Confirms it is Running Well Ahead of Interest Rates
Inflation, as reported today (July 13), is running well ahead of interest rates available in the Treasury bond market. The Bureau of Labor Statistics shows that in June, the Consumer Price Index for All Urban Consumers rose 0.9 percent on a seasonally adjusted basis. This adds up to a 5.4 percent increase over the last 12 months, not seasonally adjusted. The index for all items less food and energy increased 0.9 percent in June (SA); up 4.5 percent over the year (NSA). The ten-year U.S. Treasury Note traded to yield 1.38% end-of-day yesterday.
June's consumer-price index growth at 5.4% is the fastest pace of annual inflation in nearly 13 years. The growth is 0.9% on a month-over-month basis, the largest jump since 2008 and higher than expected.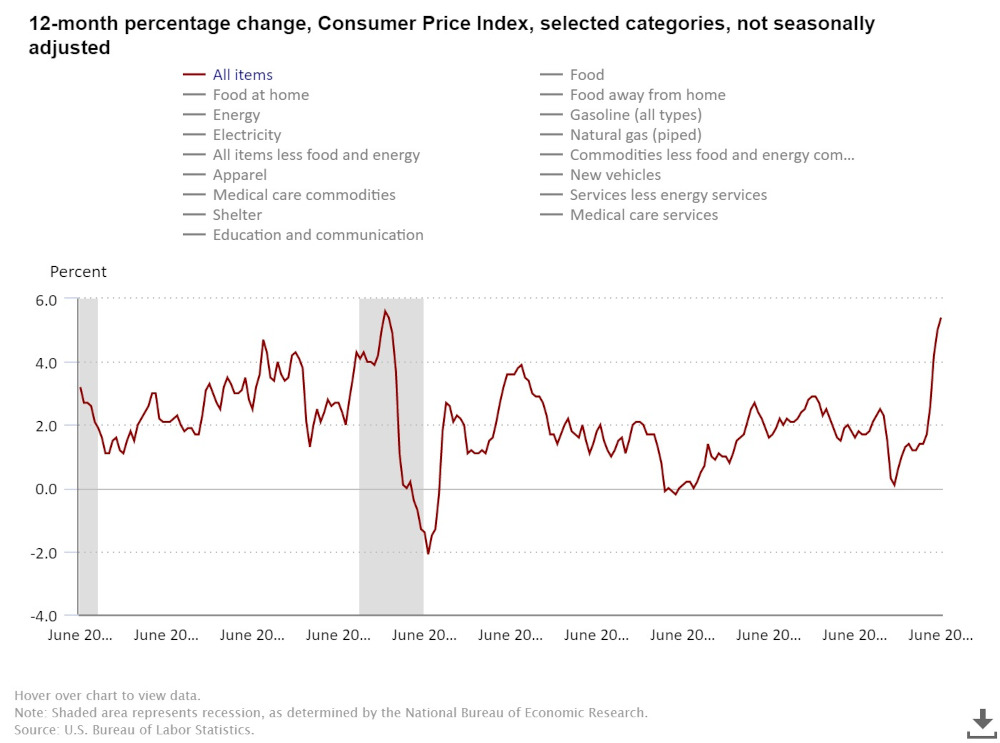 If price increases don't slow, the Federal Reserve may have no choice but to back off of its promise to hold rates down. An increase in interest rates could halt the stock market's bullish sentiment, throw cold water on real estate price growth, and cause the proposed multi-trillion-dollar infrastructure plan to cost taxpayers substantially more. It is also worth recognizing that the historically easy money and low interest rates have been a driver of dealmaking in private equity and venture capital, this could slow.
The official position taken by the Fed, which has been enough to keep the bond market stable is, the inflation numbers are transitory, primarily the result of shortages that will not last in the post-Covid economy.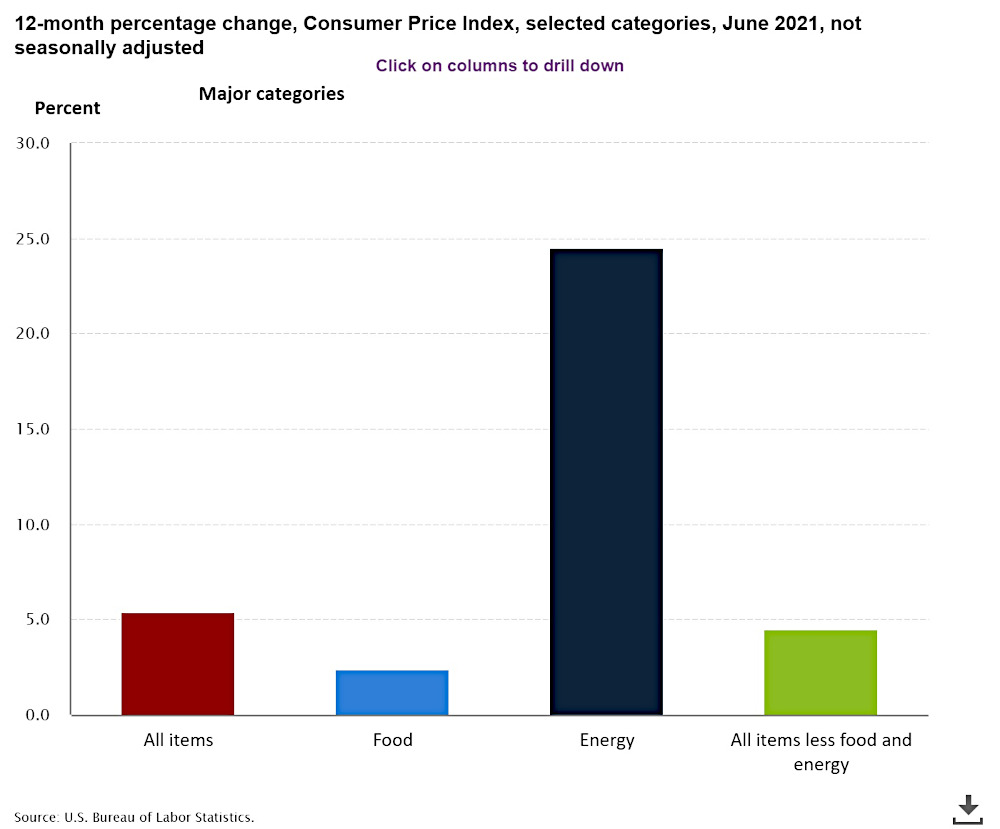 The July 13 report (June's numbers) demonstrates what could be temporary. Used car prices and transportation services made up 76% of the increase in core CPI (ex-food and energy). Buying a car and traveling, it can be argued, are sudden shocks that will not last.
July CPI will be released on August 11. Register at no cost for Channelchek's insights into markets, industries, companies, and the economy to stay on top of the no-nonsense information we provide.
Suggested Reading:
Sources:
https://www.bls.gov/news.release/cpi.nr0.htm
https://www.treasury.gov/resource-center/data-chart-center/interest-rates/Pages/TextView.aspx?data=yield
Stay up to date. Follow us: