Image: Trafigura (Flickr)

Why JP Morgan's Guru has Maintained a Positive Stance on Stocks

A month back, JP Morgan released a research note indicating the bull market in stocks is "far from over" despite investors' increasing concerns about a hawkish Federal Reserve. Since then, Russia has invaded Ukraine, interest rates have risen, and the major indices have fallen another 3.00-5.50%. Yesterday (March 15), JP Morgan's "quant guru," Marko Kolanovic doubled down on the positive stance with the notion that the S&P 500's year-to-date decline of 12% represents an opportunity that investors with a medium-term time horizon should take advantage of.
Priced for Negativity
With interest rates already having begun their climb, a spike in producer prices, and a full-blown war between two large European countries, the stock market has reacted to hit after hit of news and events to feel negative over. Despite this, JPMorgan's, Kolanovic, said Monday the S&P 500's year-to-date decline of 12% represents an opportunity that investors with a medium-term time horizon should take advantage of. The confidence is largely attributed to the idea that despite the disruptions, he doesn't expect the US economy to enter a recession. He highlighted that consumers and corporations currently have healthy balance sheets.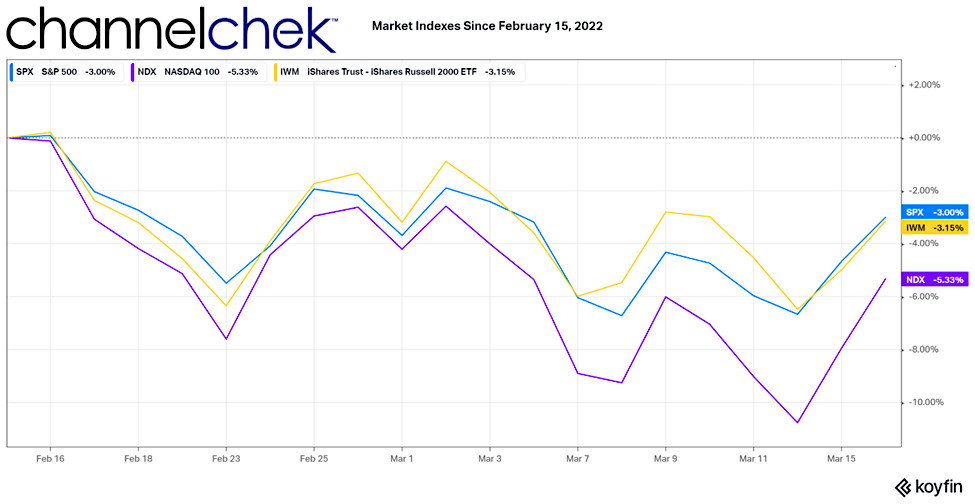 "We think that outright recession should not be a base case given continued favorable financing conditions, very strong labor markets, an unleveraged consumer, strong corporate cash flows, strong bank balance sheets, a turn for the better in the China policy outlook, and the COVID-19 impact should be fading further," Kolanovic said. This is "quant speak" for recession shouldn't be the expectation since rates are still low, people are not heavily in debt, they have jobs, banks will continue to lend, and the China situation along with the pandemic drag is fading.
Of course, there are still risks that were pointed out. While Russia is not a large trading partner with the US, it is a substantial producer of commodities that can slow US economic growth as prices for raw materials rise globally. Despite all of this, the expectations he believes are largely built into prices, none of these are a surprise, they have already had their impact. "A lot of risk is already priced in, sentiment is depressed and investor positioning is low, so we would add to risk with a medium-term horizon," Kolanovic said.

Monetary Policy Impact
Kolanovic points out that prior periods of Fed rate hikes have proven to be bullish for the broader stock market. "Equities tended to firm up 3-4 months after the first hike, and make fresh all-time highs within 6-12 months," he said.
Take-Away
Is the worst close to over? JP Morgan seems to think so. While the Global Head of Macro Quantitative and Derivatives Research at the bank thinks the broader market may treat investors well, he also cautions that this view is intended for medium-term investors. This means the turnaround may not occur for a while.
The risk to this position is that more or new negativity occurs. There is hardly a limit on events that could frighten the market. On the flip side, there is risk in not being invested when prices are down, the rates being paid for being in cash, even after a Fed rate hike are below current inflation.
Suggested Reading
Sources
https://www.linkedin.com/in/marko-kolanovic-a335b6/
https://markets.businessinsider.com/news/stocks/stock-market-outlook-bull-market-far-from-over-dovish-fed-2022-2
https://markets.businessinsider.com/news/stocks/stock-market-outlook-economy-will-avoid-recession-jpmorgan-kolanovic-inflation-2022-3
Stay up to date. Follow us: