Companies by Sector
More than 6000 listed
Communication Services
Telecommunication Services
Consumer Cyclical
Advertising & Marketing Services
Furnishings, Fixtures & Appliances
Homebuilding & Construction
Manufacturing - Apparel & Accessories
Manufacturing - Apparel & Furniture
Retail - Apparel & Specialty
Consumer Defensive
Beverages - Non-Alcoholic
Financial Services
Diversified Financial Services
Healthcare
Healthcare Providers & Services
Medical Devices & Instruments
Medical Diagnostics & Research
Medical Instruments & Equipment
Industrials
Farm & Heavy Construction Machinery
Transportation & Logistics
Utilities
Utilities - Independent Power Producers



Global Events Seem to have created a Separate Uranium Market for the East and West - Is this an Opportunity?
Should investors buy the uranium dip? After reaching a recent high on April 13, spot uranium has come under significant selling pressure. This may be a temporary reaction to lockdowns and restrictions in China related to the country's zero Covid policy and recent outbreaks. Public companies related to uranium production had reached their highest level since November in April; they have fallen with the price per tonne of the yellow metal.
Market Fundamentals
The price for anything goes up and down on two factors, supply and demand – part of demand is speculation. This component of demand is particularly relevant in commodities. Uranium, of course, is a commodity.
Prior to the late April dip, uranium and related companies were experiencing a substantial run-up. The reasons for this were plenty; in fact, let's word this are plenty, because they still exist.
A list worth sharing of reasons to be bullish on uranium was provided on April 20 at NobleCon18 by Peninsula Energy (PENMF). Peninsula is an advanced stage uranium developer, "ready to put pounds in the can, and out to market." Wayne Heili, who has 30 years of experience in the business, discussed the unfolding trends that explain the enthusiasm for uranium.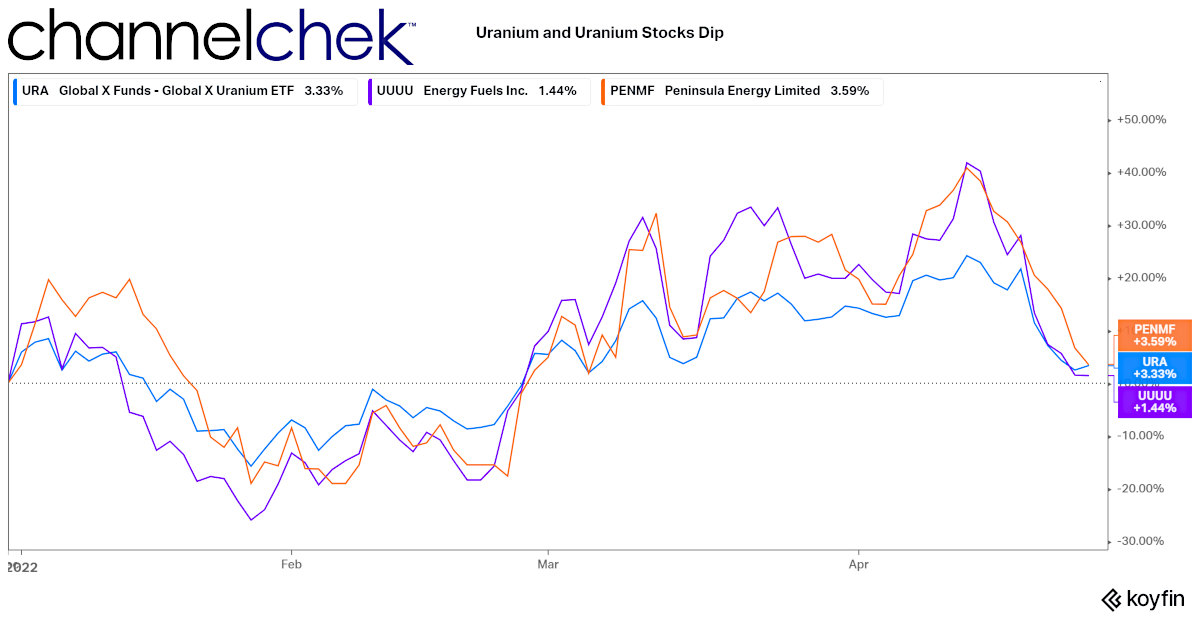 Corporations involved in uranium production to serve the West followed the price of uranium. The question investors are asking is does the does the cheaper entry price create a buying opportunity.
The Case for Uranium
Mr. Heili said nuclear is part of the green energy mix that the world is requiring. This mix, the Peninsula CEO pointed out, is splitting into an Eastern and Western oriented market in terms of who is served. It was explained to the investors present that whether by law or by choice, the utilities that are serving the West are going to stop relying on nuclear fuel from Russia. Western markets are currently characterized as having a supply deficit. There is little or no production, conversion, or enrichment and perhaps not enough fuel fabrication capacity. This of course, translates into the West needing to create or add capacity to fill the void of not accepting supplies from the East.
We're now in the part of the nuclear fuel cycle where production will need to be ramped up. Adding to this is need is the European Union now recognizing and characterizing uranium as green.
Another catalyst for increased demand and prices is the Sprott Uranium Fund. The investment company's physical uranium trust is inventorying U308. Material that may never make it to a plant.
The industry has been receiving bi-partisan support from Washington, and the new self-reliance has shown its importance when it comes to the supply of energy and other essentials.
Separately at NobleCon18, Mark Chalmers of Energy Fuels (UUUU) spoke about the uranium market and his company. He shared that 20% of electricity produced in the US is from nuclear. The focus on reducing carbon and maintaining or increasing baseload energy has brought about a nuclear renaissance.
Take-Away
While the overall stock market has been trending down this year, energy stocks, including uranium, have been marching much higher. Two weeks ago, Covid fears overseas brought uranium and uranium stocks down to just above their opening at the start of 2022. Is this substantial dip just a blip before they head back up. The energy industry and the uranium sector of that industry are faced with increasing demand. Supplying that demand should increase revenues.
Suggested Content
Stay up to date. Follow us:
Company
Ticker
Price
Previous
Mkt Cap
Volume
52wk Range
Energy Fuels Inc
UUUU (AMERA)
$7.69
$1.21B
0
$4.32 - $11.39
Fundamental Analysis
Peninsula Energy Ltd.
PENMF (GREY)
$0.15
$153.58M
0
$0.08 - $0.28
Advanced Market Data
()
Detailed Quote
Charts
Statistics
Financials
Historical Quotes
Insider Activity
Key Ratios