Energy: First Quarter 2022 Review and Outlook

Noble Capital Markets Energy Sector Newsletter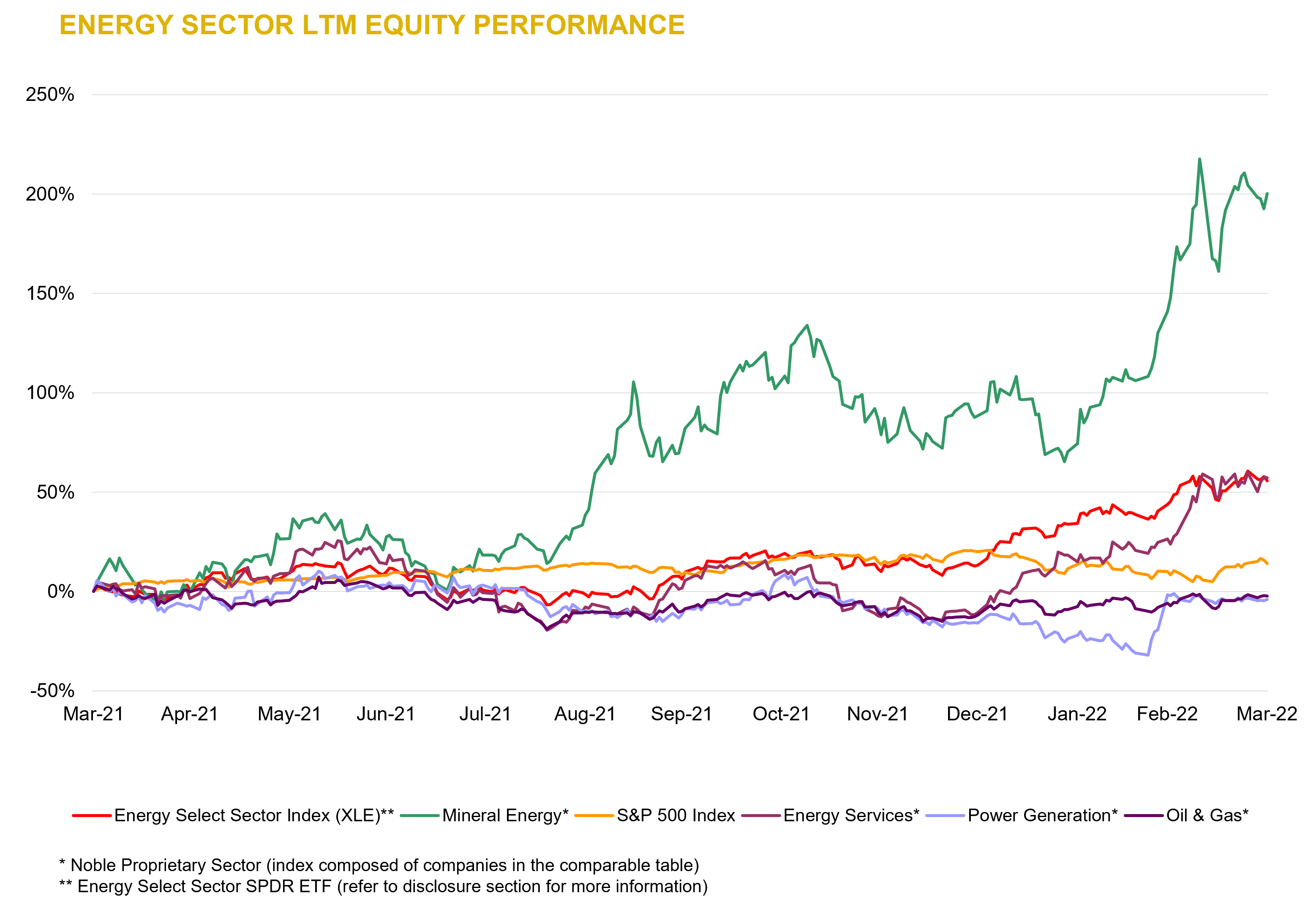 Source: Capital IQ as of 03/31/2022
Energy Fundamental Data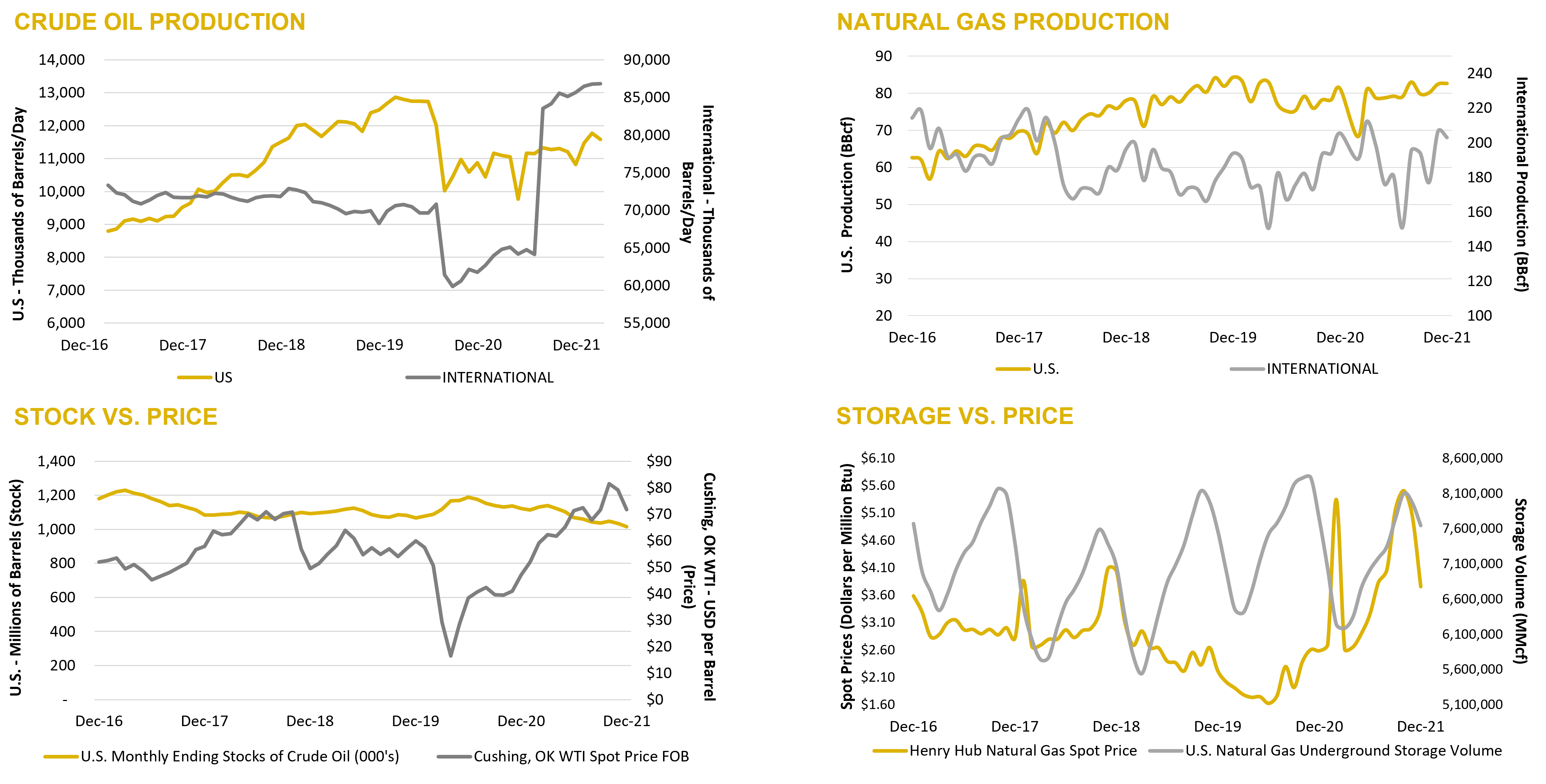 Source: Energy Information Administration as of 12/31/2021
ENERGY INDUSTRY OUTLOOK
Energy Stocks Remain On A Tear

Energy Stocks Performance

Energy stocks, as measured by the XLE Energy Index, continued their torrid pace rising 41% in the quarter and far outpacing the overall market. The increase reflects higher oil and gas prices during the quarter, much of which can be attributed to the conflict between Russia and Ukraine. That said, investors are growingly accepting the fact that higher prices are not merely related to temporary factors such as Ukraine, supply chain issues, a post-covid economic rebound, or OPEC supply tightening. Instead, there is growing belief that higher prices reflect a fundamental disconnect between the energy demand and supply. Investors no longer talk about domestic supply costs as the factors setting prices instead concentrating on how rising demand will be met until renewable energy is able to have a significant impact on energy demand.
Oil Prices

The run-up in oil prices has been extraordinary virtually doubling in price over the last twelve months. Prices have backed off of highs hit at the beginning of the Ukraine conflict but remain at levels well above that needed for energy companies to make large profits. Brent prices remain approximately $5/bbl. above WTI prices ending the quarter near $108/bbl. Futures prices remain relatively flat declining about a $1 each month going forward. We do not believe $100 oil prices are sustainable and expect increased drilling to eventually lower prices. Nevertheless, we have raised our long-term oil price assumption used in our valuation models to $60 from $50.
Drillers are beginning to react to higher oil prices, but the response has been slow. Active rigs have doubled in the last twelve months but remain below pre-pandemic levels and are only one-third of peak levels in 2015. As the chart below shows, there has been a disconnect between the oil rig count and oil prices in recent years that has become only more exaggerated in recent months with oil prices rising above $100. As indicated previously, we expect drilling activity to continue to increase as long as oil prices remain at current inflated levels. How quickly drilling will increase remains to be seen.
Natural Gas Prices

Natural gas prices have also been exceptionally strong early in the quarter climbing approaching $6/mcf. Much attention has been given to the role domestic gas producers might have in supplying natural gas to Europe to replace gas being received from Russia. The trend towards building liquified natural gas (LNG) export terminals (or reversing import terminals) began years ago. Still, the United States is several years away from increasing its LNG export capacity to a level that could offset Russian imports. That said, the trend will most likely continue creating a favorable outlook for domestic natural gas producers. Interestingly, natural gas prices are higher at the Henry Hub pricing point than most of the country reflecting regional temperature disparities and perhaps a growing trend towards LNG exports.
Storage levels, which entered the winter heating season at high levels, exit the season near historically low levels. Temperatures in the lower 48 states have been colder than normal with the last two weeks in March being significantly colder than normal. As we enter the summer months, there is little to move storage levels back in line. We would expect to enter the next heating season at average to below average storage levels.
Outlook

Energy industry fundamentals remain strong. Energy prices are high and show no sign of decreasing. High oil prices, combined with improved operating efficiencies, mean that production companies are facing very favorable returns on their investment. We look for companies to continue reporting strong positive cash flow and to use cash flow to increase drilling and improve balance sheets. We do not expect companies to raise dividend payments given the cyclical nature of recent oil price trends but would not rule out share repurchases if stock prices do not rebound further. Concerns of industry-wide reductions in lifting costs or a fundamental shift away from carbon-based fuels have gone to the wayside due to a lack of supply response to higher prices. The drilling that is being done is very profitable and that should lead to higher company profits and improved company financials. We believe small energy companies that can expand without drawing attention may be at an advantage.
Source: Michael Heim 01/04/2022; Energy Information Agency (EIA)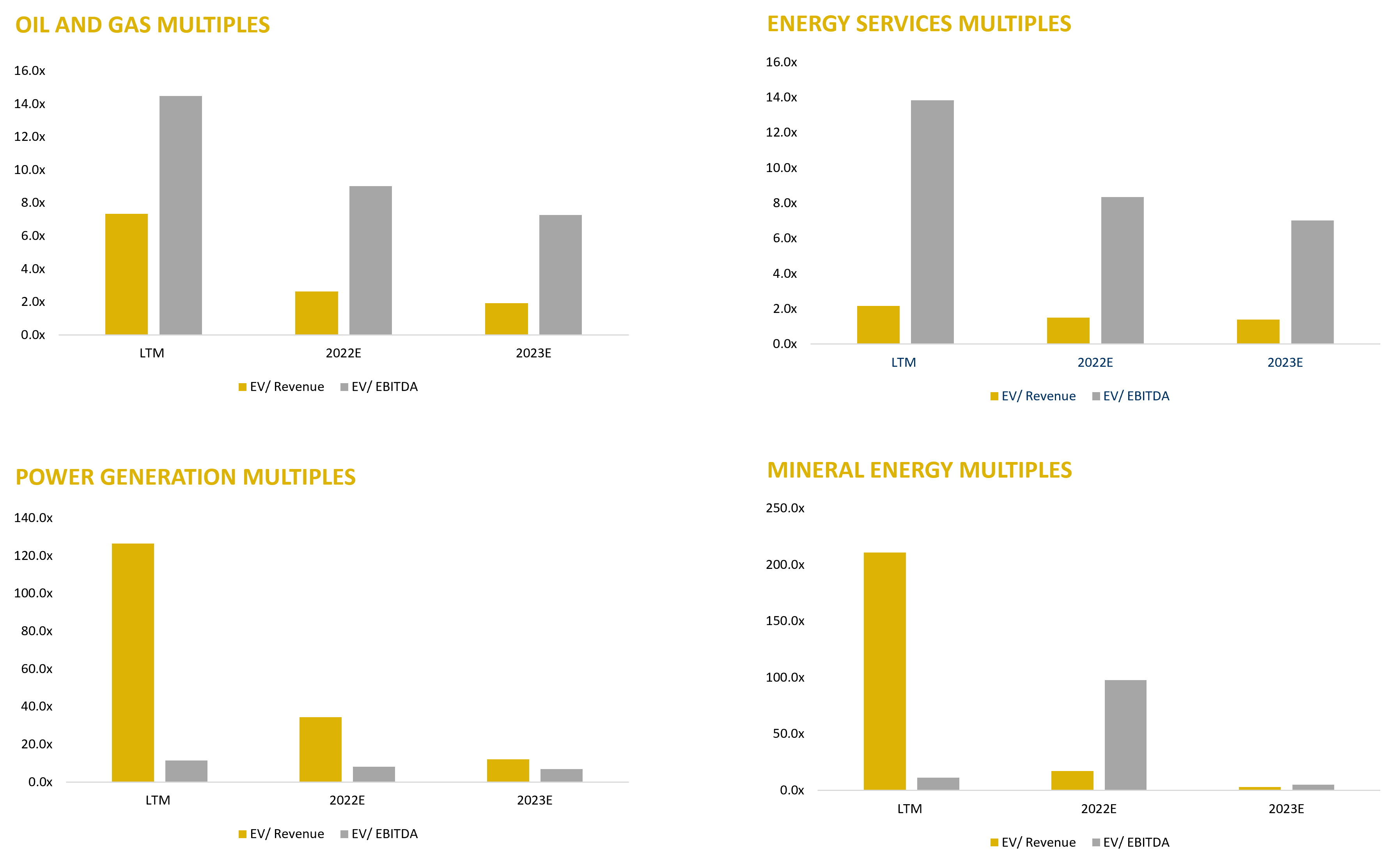 Source: Capital IQ as of 03/31/2022
Oil & Gas – Comparable Tables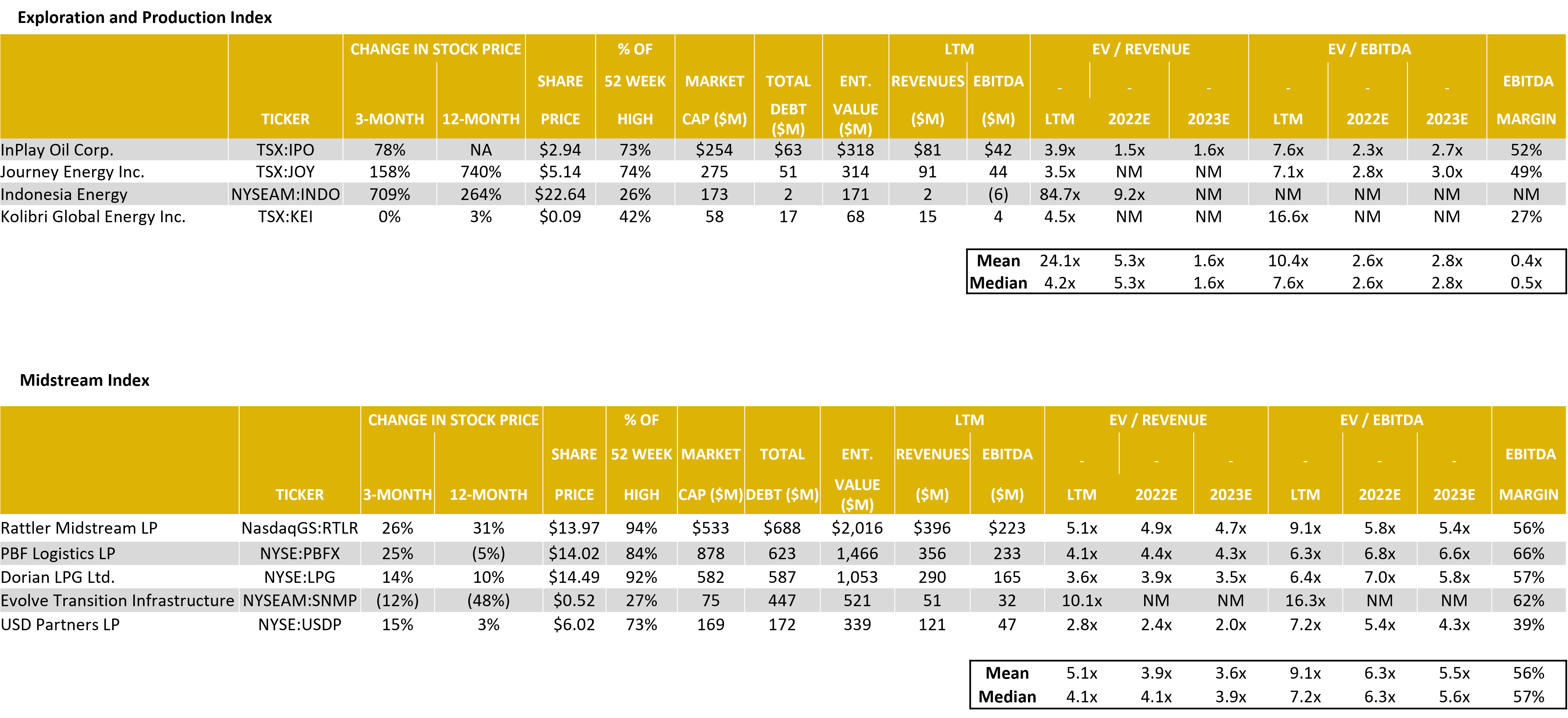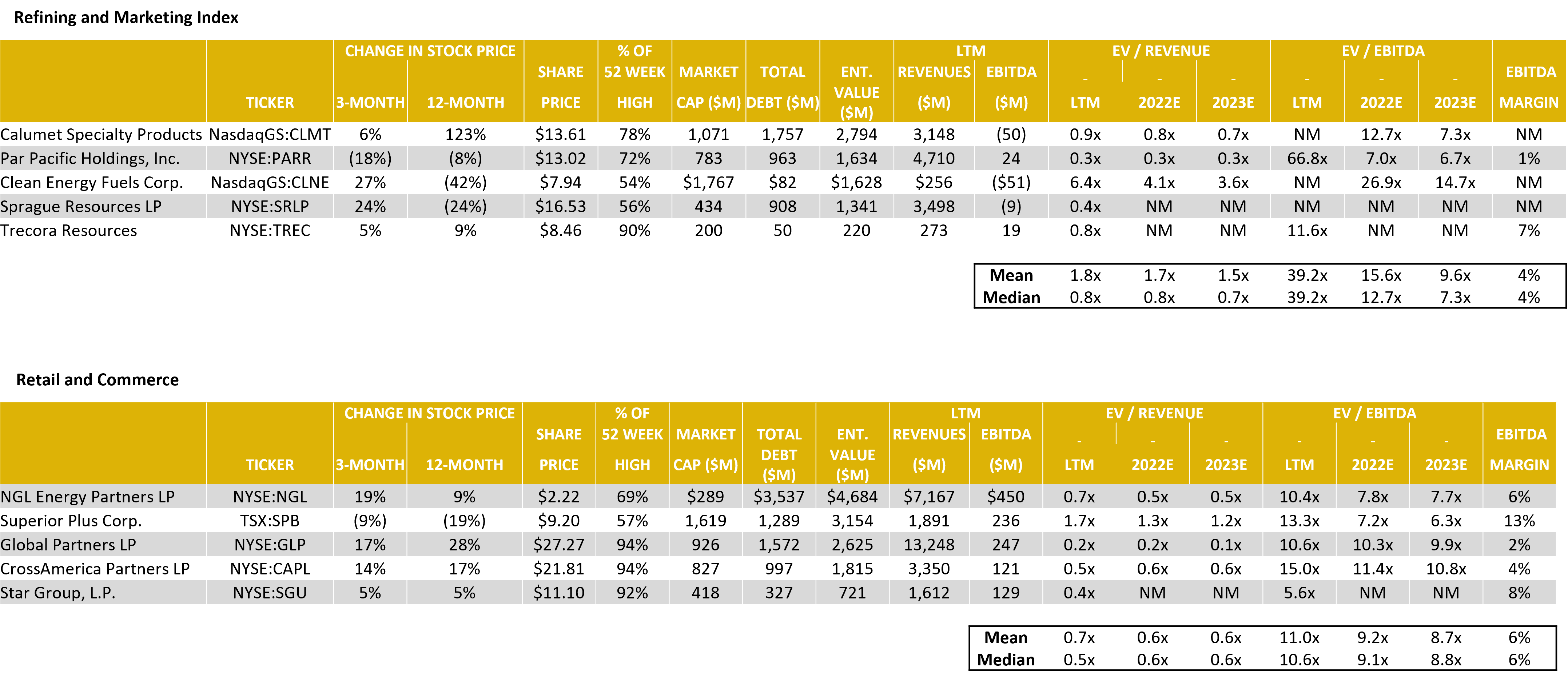 Source: Capital IQ as of 03/31/2022
Oil & Gas – LTM Equity Performance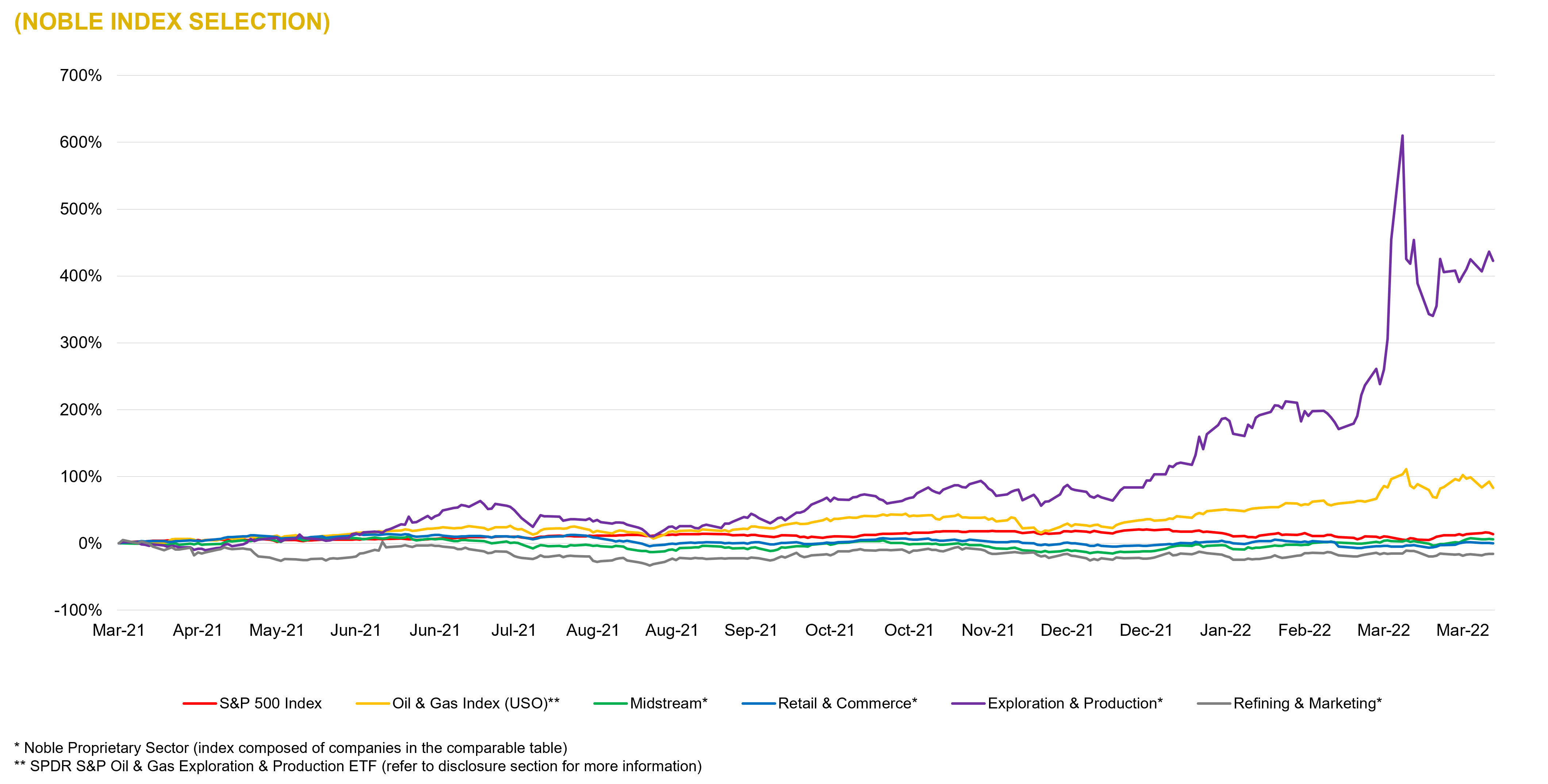 Source: Capital IQ as of 03/31/2022
Oil & Gas – 2021-4Q Global M&A Activity

Source: Capital IQ as of 03/31/2022
Power Generation – Comparable Tables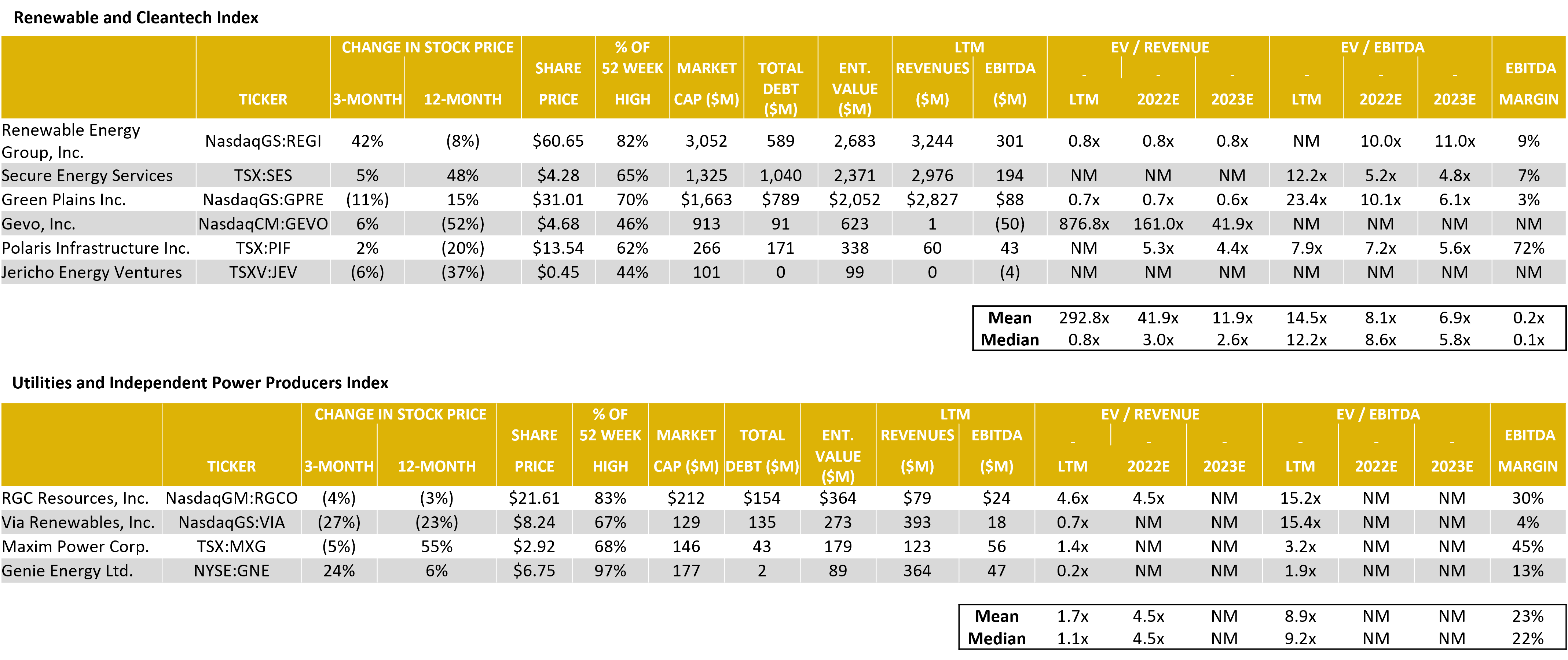 Source: Capital IQ as of 03/31/2022
Power Generation – LTM Equity Performance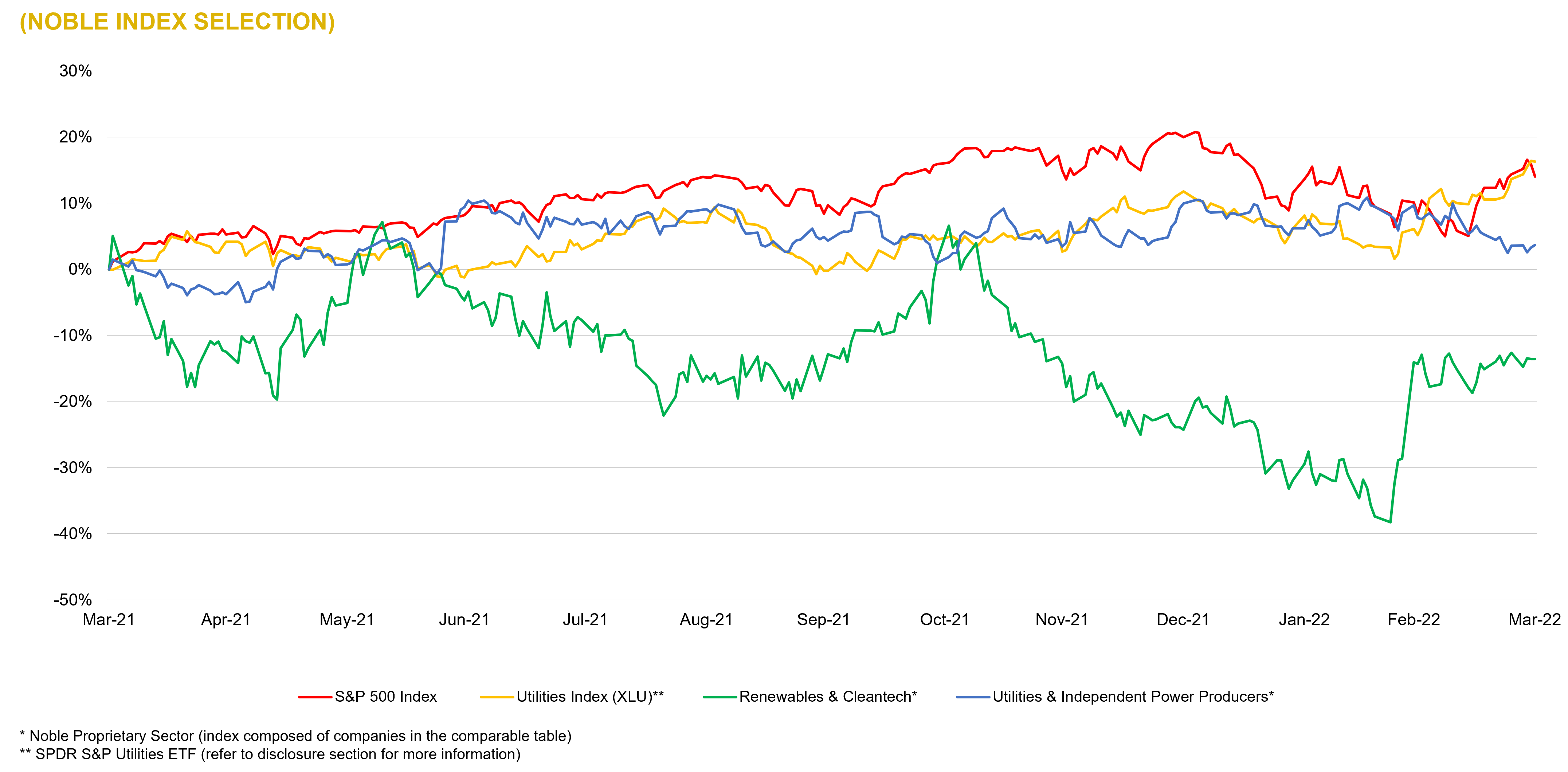 Source: Capital IQ as of 03/31/2022
Power Generation – 2021-4Q Global M&A Activity

Source: Capital IQ as of 03/31/2022
Energy Services – Comparable Tables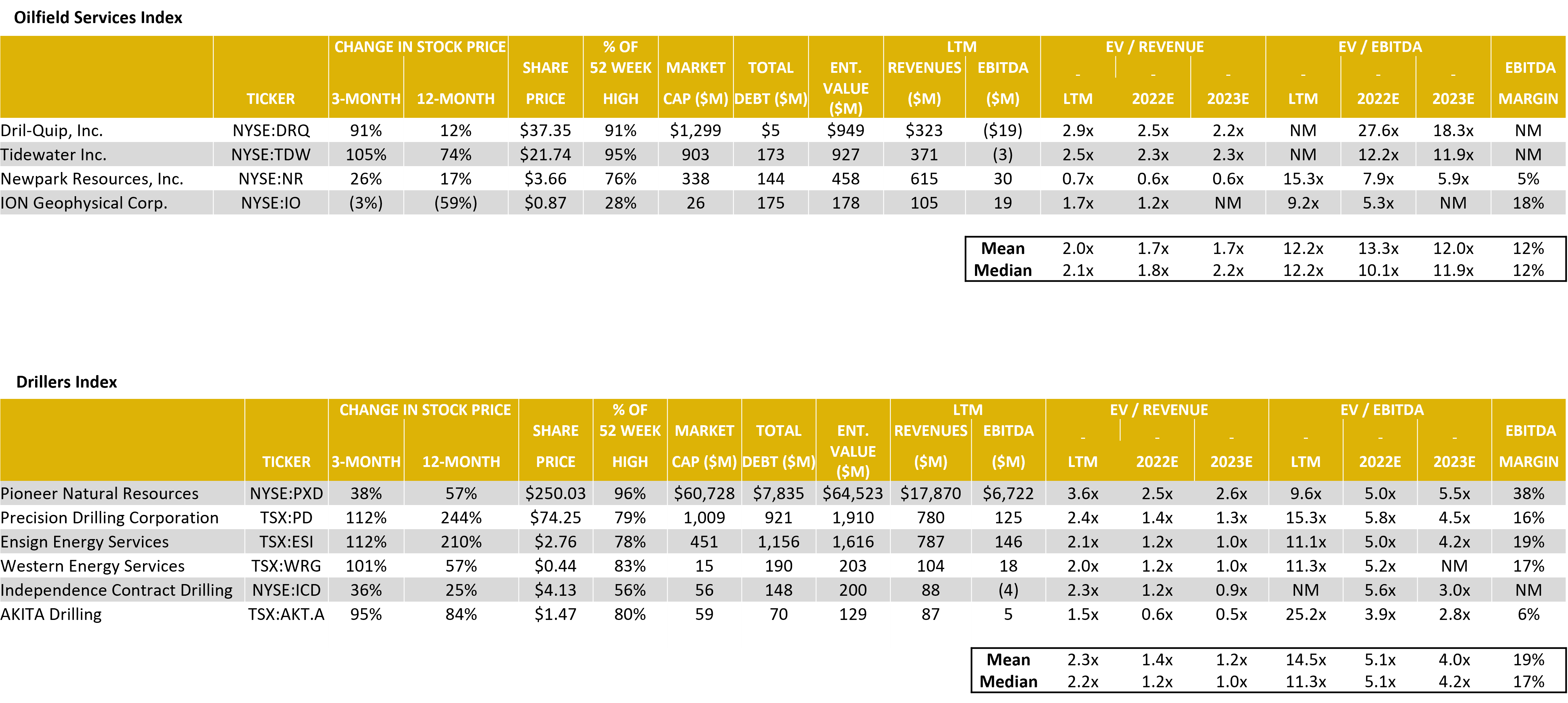 Source: Capital IQ as of 03/31/2022
Energy Services – LTM Equity Performance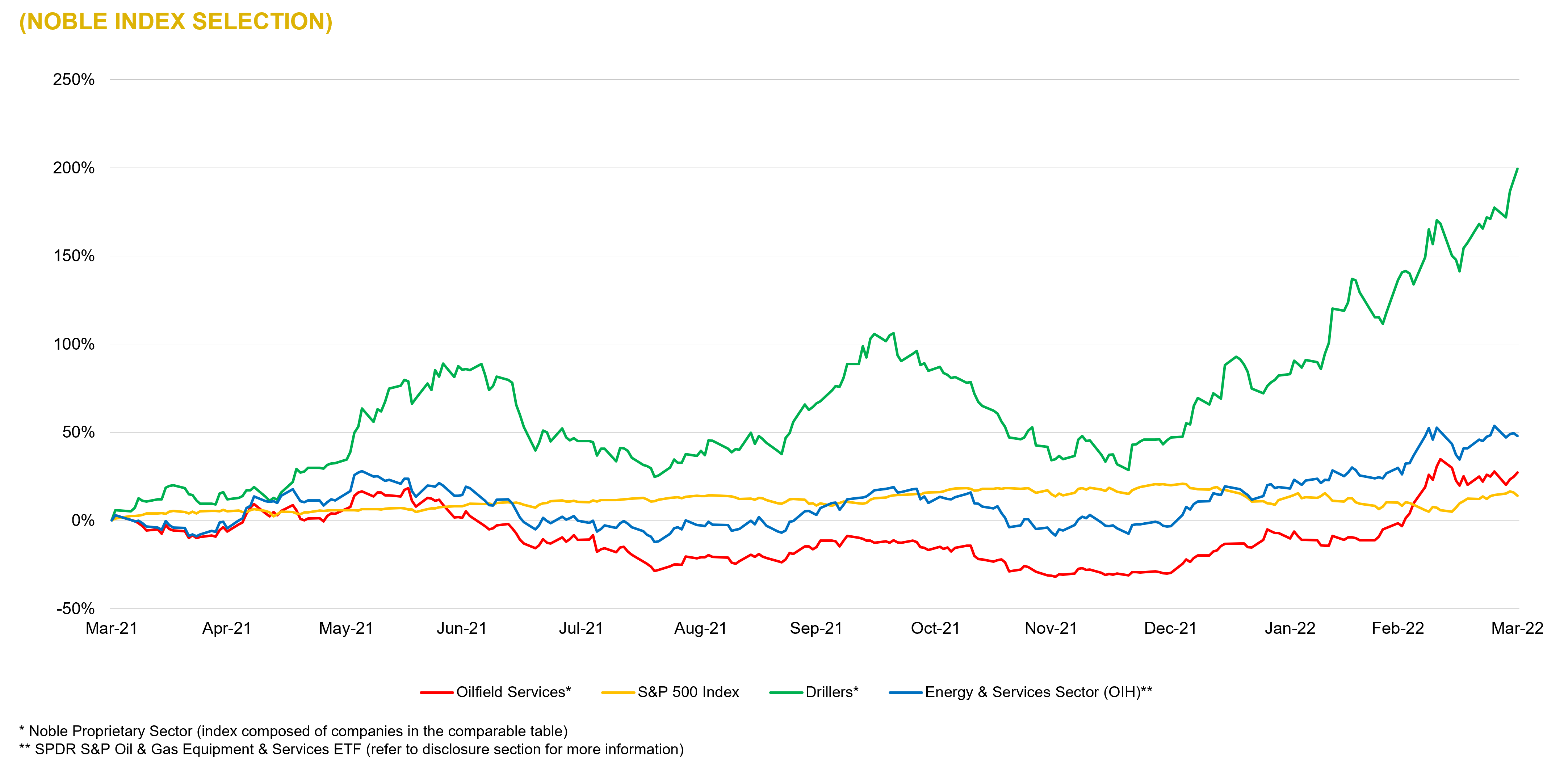 Source: Capital IQ as of 03/31/2022
Energy Services – 2021-4Q M&A Activity

Source: Capital IQ as of 03/31/2022
Mineral Energy – Comparable Tables

Source: Capital IQ as of 03/31/2022
Mineral Energy – LTM Equity Performance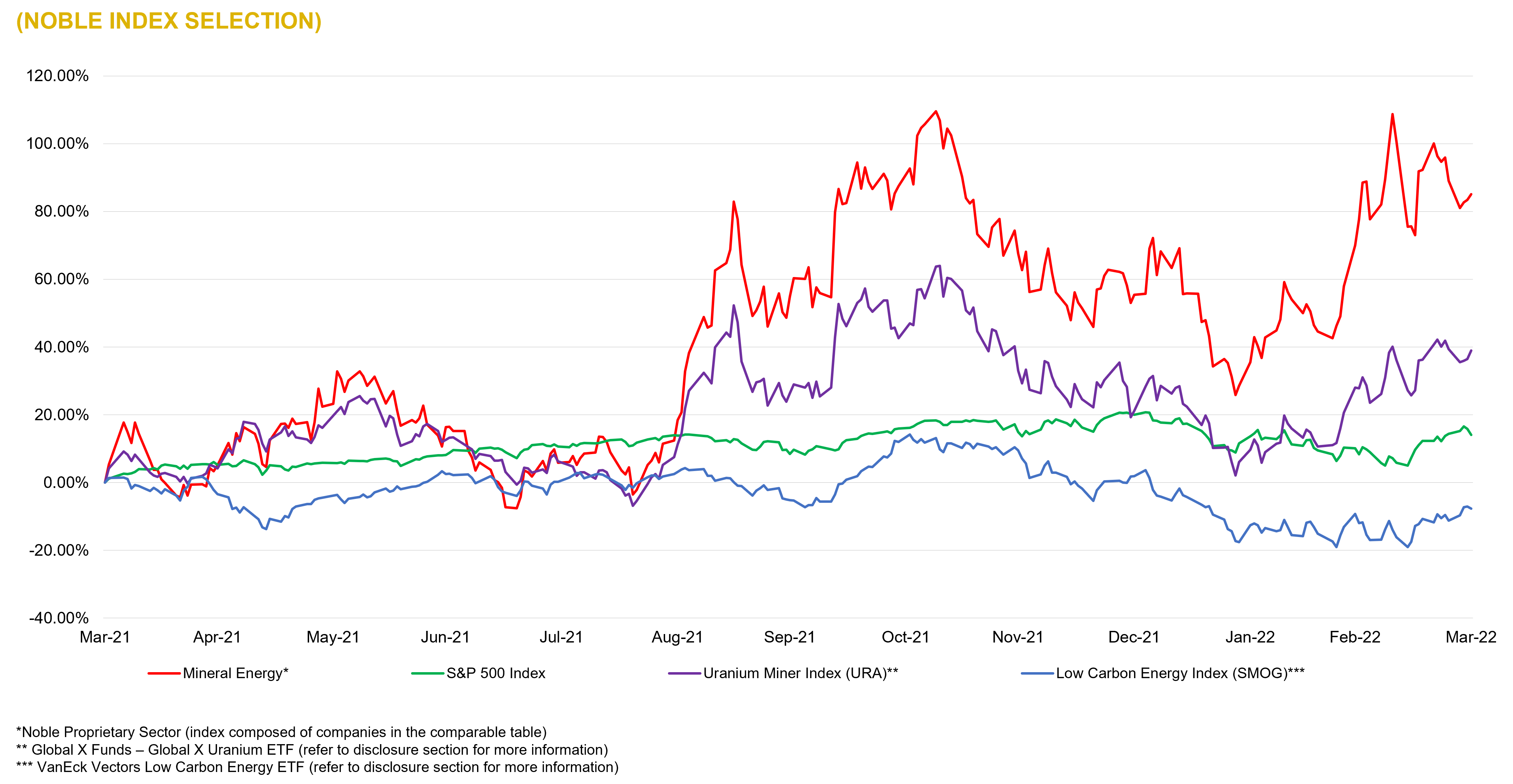 Source: Capital IQ as of 03/31/2022
Mineral Energy – 2021 Global M&A Activity

Source: Capital IQ as of 03/31/2022
LTM Energy – Energy Industry M&A Summary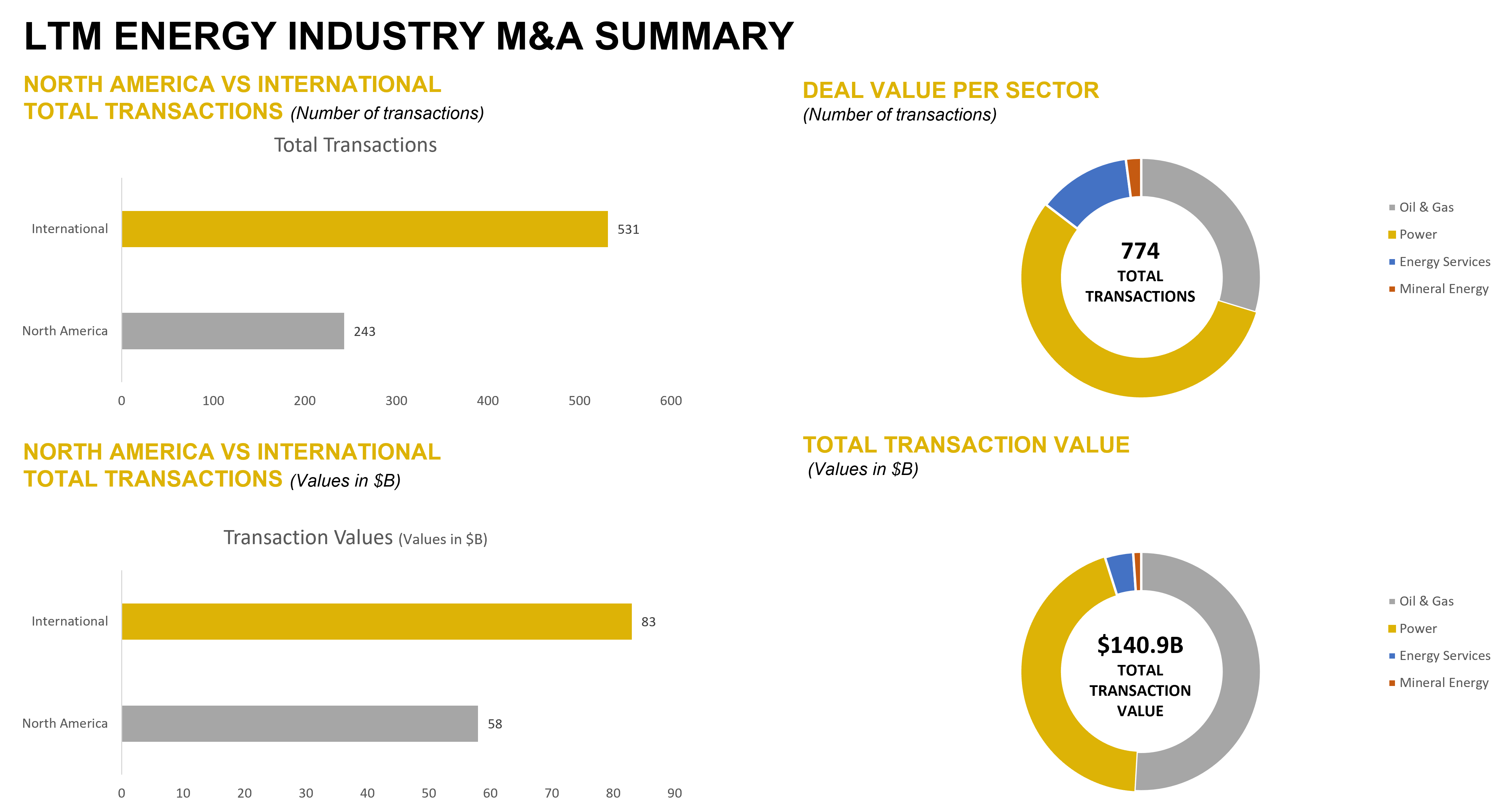 Source: Capital IQ as of 03/31/2022
NOBLE QUARTERLY HIGHLIGHTS
Permex Petroleum Corp. (OTCQB:OILCF)
Industry: Energy – Oil and Gas Exploration and Production
Permex Petroleum is a uniquely positioned junior oil & gas company with assets and operations across the Permian Basin of West Texas and the Delaware Sub-Basin of New Mexico. The company focuses on combining its low-cost development of Held by Production assets for sustainable growth with its current and future Blue-Sky projects for scale growth.
1st Quarter News Highlights:
March 28, 2022: The Company announced the closing of a brokered private placement, which resulted in gross proceeds of approximately USD $7.5 million before deducting the placement agent's fees and other estimated fees and expenses related to the Offering. Each Unit consists of one common share and one common share purchase warrant. Each Warrant will be exercisable into one Share for a period of five years at an exercise price of USD $0.21 per share.
Peninsula Energy Ltd. (OTCQB:PENMF)
Industry:Mineral Energy; Exploration and production
Peninsula Energy Limited (PEN) is an ASX listed uranium mining company which commenced in-situ recovery operations in 2015 at its 100% owned Lance Projects in Wyoming, USA. Peninsula is embarking on a project transformation initiative at the Lance Projects to change from an alkaline ISR operation to a low-pH ISR operation with the aim of aligning the operating performance and cost profile of the project with industry leading global uranium production projects.
1st Quarter News Highlights:
March 28, 2022: Peninsula Energy announced the initiation of an update to the 2018 Low-pH Feasibility Study on its flagship, 100% owned Lance Project ("Lance") located in Wyoming, USA. The Company is also pleased to announce the selection of Western Water Consultants, Inc. d/b/a WWC Engineering, a leading US-based consulting and engineering firm with significant Uranium In-Situ Recovery ("ISR") expertise, to author the Study.
Alvopetro Energy Ltd. (OTCQX:ALVOF)
Industry: Energy – Oil & Gas; Exploration and production
Alvopetro Energy Ltd.'s vision is to become a leading independent upstream and midstream operator in Brazil. The company's strategy is to unlock the on-shore natural gas potential in the state of Bahia in Brazil, building off the development of their Caburé and Gomo natural gas projects and the construction of strategic infrastructure assets.
1st Quarter News Highlights:

March 17, 2022: The company announced a 33% increase in quarterly dividend to US$0.08/share, payable in cash on April 14, 2022, to shareholders of record at the close of business on March 31, 2022. This dividend is designated as an "eligible dividend" for Canadian income tax purposes. Alvopetro's cash flows are linked to US dollars and as such, dividends are being paid in US dollars.
Source: Company Press Releases
DOWNLOAD THE FULL REPORT (PDF)
Noble Capital Markets Energy Newsletter Q1 2022

This newsletter was prepared and provided by Noble Capital Markets, Inc. For any questions and/or requests regarding this newsletter, please contact >Francisco Penafiel
DISCLAIMER
All statements or opinions contained herein that include the words " we"," or " are solely the responsibility of NOBLE Capital Markets, Inc and do not necessarily reflect statements or opinions expressed by any person or party affiliated with companies mentioned in this report Any opinions expressed herein are subject to change without notice All information provided herein is based on public and non public information believed to be accurate and reliable, but is not necessarily complete and cannot be guaranteed No judgment is hereby expressed or should be implied as to the suitability of any security described herein for any specific investor or any specific investment portfolio The decision to undertake any investment regarding the security mentioned herein should be made by each reader of this publication based on their own appraisal of the implications and risks of such decision This publication is intended for information purposes only and shall not constitute an offer to buy/ sell or the solicitation of an offer to buy/sell any security mentioned in this report, nor shall there be any sale of the security herein in any state or domicile in which said offer, solicitation or sale would be unlawful prior to registration or qualification under the securities laws of any such state or domicile This publication and all information, comments, statements or opinions contained or expressed herein are applicable only as of the date of this publication and subject to change without prior notice Past performance is not indicative of future results.
Please refer to the above PDF for a complete list of disclaimers pertaining to this newsletter