Companies by Sector
More than 6000 listed
Communication Services
Telecommunication Services
Consumer Cyclical
Advertising & Marketing Services
Furnishings, Fixtures & Appliances
Homebuilding & Construction
Manufacturing - Apparel & Accessories
Manufacturing - Apparel & Furniture
Retail - Apparel & Specialty
Consumer Defensive
Beverages - Non-Alcoholic
Financial Services
Diversified Financial Services
Healthcare
Healthcare Providers & Services
Medical Devices & Instruments
Medical Diagnostics & Research
Medical Instruments & Equipment
Industrials
Farm & Heavy Construction Machinery
Transportation & Logistics
Utilities
Utilities - Independent Power Producers


	Image Credit: EnergyTomorrow – Drill Bit (Flickr) 
Why Some Forecasters are Bullish on Oil in 2022
Crude oil and oil companies finished 2021 strong despite the increased Covid19 infection rate during December. Forecasters are expecting supply and demand factors to continue to put upward price pressure on crude oil, and related companies.
Background
A dip in oil prices just after Thanksgiving appeared to be in response to fears of a new Covid19 variant potentially impacting holiday travel and other economic activity. The move reversed as we moved through December as we experienced crude prices regaining lost ground. As the first trading week of 2022 comes to a close, energy prices have continued up in response to problems in Kazakhstan, but forecasts are bullish on the commodity and the sector beyond problems in that producer country.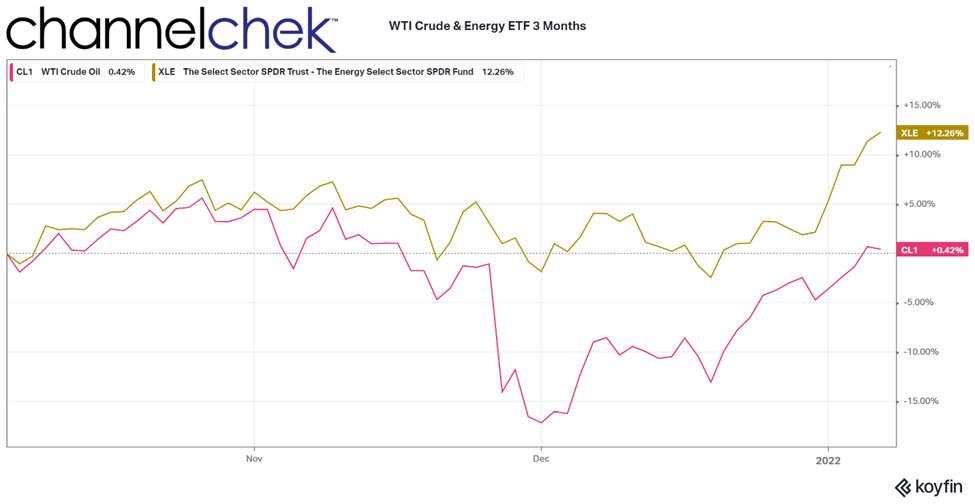 From a demand standpoint, consumption remained strong for oil in December. This demand could increase further as manufacturing activity has been shown to be increasing as supply chain bottlenecks are beginning to lessen.
Although large economies are showing expansion the coronavirus recovery has been full of stops and starts, there is much uncertainty as to what lies ahead. With further recovery and reduced restrictions in travel, demand should increase further.
The Energy Information Administration (EIA) is expecting the trend of inventory drawdowns to slowly reverse this year. Any inventory growth could create downward pressure on crude oil prices. The EIA is forecasting Brent Crude prices averaging $71/barrel in Q2 2022, $70/barrel in Q3 2022, and $67/barrel in Q4 2022. But with part of the increased supply expected to come from U.S. shale, there remain significant caveats to their forecast.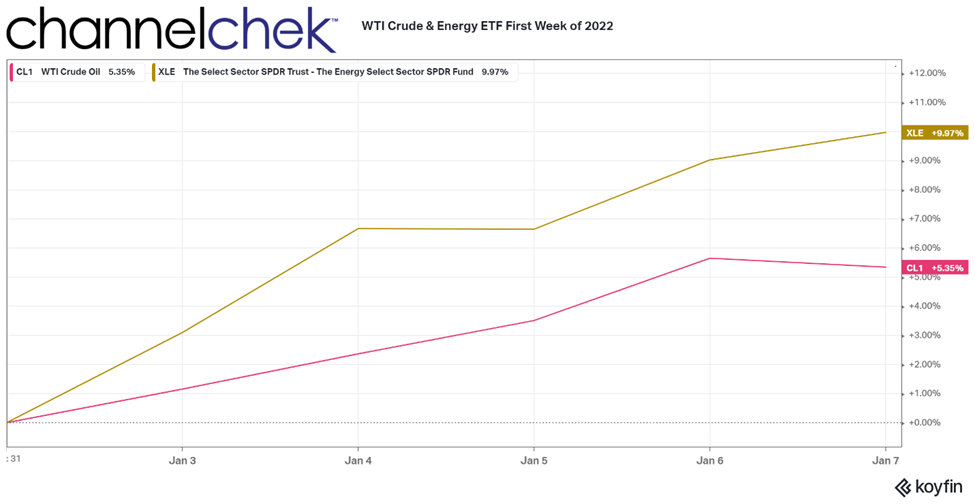 The supply side is less certain. At its December 2nd meeting, OPEC+ agreed to extend an increase in February of 400,000 barrels per day. It's important to note that while OPEC+ has been increasing its output target at these meetings, actual production has fallen short as some members are struggling with capacity problems. So the announcements are viewed with the backdrop of OPEC+ producers missing their targets by 730,000 bpd in October and by 650,000 bpd in November.
In a quarterly energy industry report released this week, titled, Energy Stocks Level out But Pricing is Still Attractive, Senior Research Analyst, Michael Heim, CFA, at Noble Capital Markets, Inc. wrote, "Energy industry fundamentals remain strong. Energy prices are high and show no sign of decreasing." Heim is constructive on the price of oil and the related producers, "The drilling that is being done is very profitable and that should lead to higher company profits and improved company financials. We believe small energy companies that can expand without drawing attention may be at an advantage," said Heim.
Take-Away
Oil prices remain strong and have continued to rise into 2022. Threats to production from unrest in Kazakhstan have added to potential supply concerns and the strength we have seen so far in 2022.
OPEC+ producers have been regularly falling short of their targets, there is no reason to expect this to change. As supply bottlenecks ease, demand for oil should increase, however, inventory drawdowns are tapering and are expected to eventually reverse.
The first week of 2022 has seen oil prices shoot up over 5% and oil stocks finding themselves in the strongest sector.
Managing Editor, Channelchek
Suggested Reading:

Sources:
https://www.energy.gov/fecm/articles/summary-50-million-barrel-release-strategic-petroleum-reserve
https://www.opec.org/opec_web/en/press_room/6766.htm
https://www.eia.gov/outlooks/steo/marketreview/crude.php
Stay up to date. Follow us:
Company
Ticker
Price
Previous
Mkt Cap
Volume
52wk Range
Zion Oil
ZN (Nasdaq)
0
0
0
0 - 0
MV Oil Trust
MVO (NYSE)
$11.85
$136.28M
0
$4.35 - $15.14
Contango Oil & Gas Company (TX)
MCF (AMERA)
$3.22
$648.31M
0
$1.58 - $6.94
Advanced Market Data
()
Detailed Quote
Charts
Statistics
Financials
Historical Quotes
Insider Activity
Key Ratios