Companies by Sector
More than 6000 listed
Communication Services
Telecommunication Services
Consumer Cyclical
Advertising & Marketing Services
Furnishings, Fixtures & Appliances
Homebuilding & Construction
Manufacturing - Apparel & Accessories
Manufacturing - Apparel & Furniture
Retail - Apparel & Specialty
Consumer Defensive
Beverages - Non-Alcoholic
Financial Services
Diversified Financial Services
Healthcare
Healthcare Providers & Services
Medical Devices & Instruments
Medical Diagnostics & Research
Medical Instruments & Equipment
Industrials
Farm & Heavy Construction Machinery
Transportation & Logistics
Utilities
Utilities - Independent Power Producers


Image Credit: UFA (Flickr)
Can One Wrong Board Member Cost Stockholders?
Jack Dorsey, co-founder of Twitter (TWTR) and current board member of the social media giant used Twitter on Saturday (April 17) to share his thoughts on Twitter's Board of Directors, (BOD). One of Jack's tweets about the BOD read, "it's consistently been the dysfunction of the company."
Leading up to the string of tweets was last week's historic offer by Elon Musk to acquire the micro-blogging platform for $43 billion. The online exchange of ideas started with a venture capitalist by the name of Garry Tan, who began by tweeting: "The wrong partner on your board can literally make a billion dollars in value evaporate." The tweet continued, "It is not the sole reason behind every startup failure, but it is the true story a surprising percentage of the time."
In response, Dorsey who left Twitter last November and will remain a BOD member until May tweeted, "Big Facts."


Dorsey retains a 2.2% share of TWTR. The string continues with a tech professional that follows Dorsey with the handle (@iHadrami) discussing what he recollects as plots and coups from the earliest days of Twitter being public.
The most telling tweet related to Dorsey's frustration is the final tweet when Dorsey uses one word to show that his venting may get him into hot water.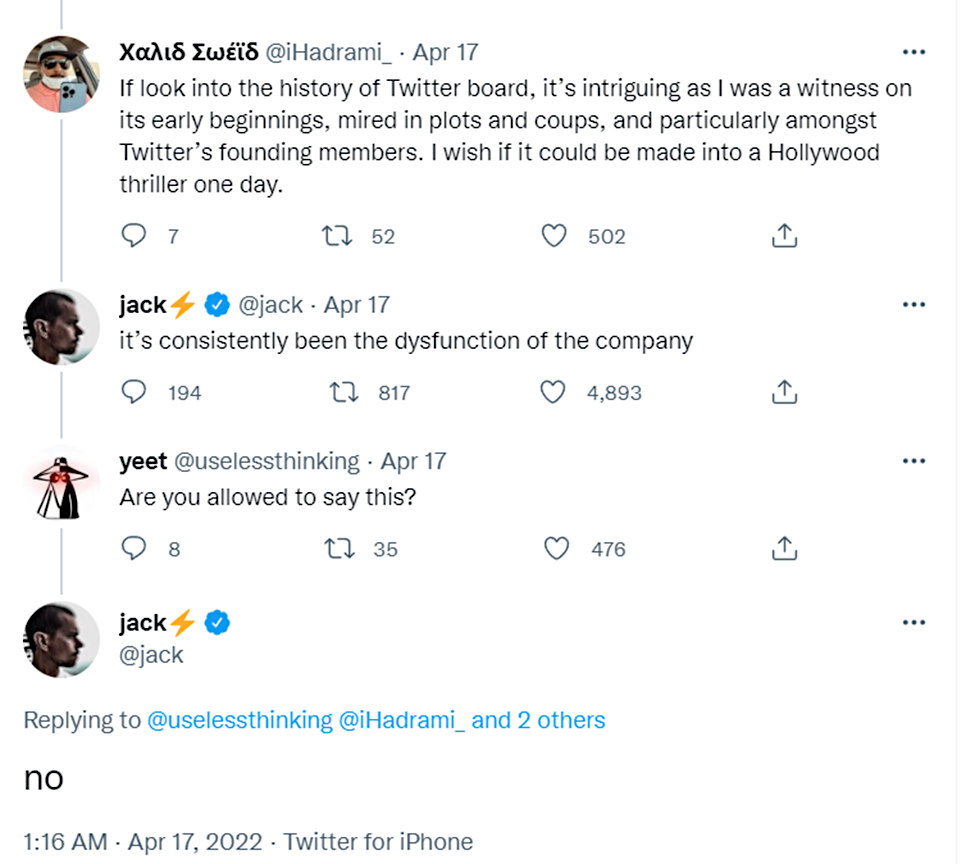 It isn't clear if the co-founder is saying "no" that he isn't allowed based on Twitter rules, SEC rules, or some written or unwritten code of conduct. But, Dorsey punctuates his earlier points by showing that he no longer cares what he is "allowed' to say.
Take-Away
The initial 9.2% stake that Elon Musk acquired in Twitter, the BOD seat offer, which he later declined, and the current $43 billion, take-it-or-leave-it bid is creating a lot of discussion of big tech power, media companies, and billionaires. The well known participants in these discussions is growing.
This is the first time Dorsey has joined the fray and shown frustration toward BOD oversight and decision-making.
Managing Editor, Channelchek
Suggested Reading
Sources
https://fortune.com/2022/04/17/its-consistently-been-the-dysfunction-of-the-company-twitter-cofounder-jack-dorsey-appears-to-call-out-his-social-media-platforms-board-elon-musk-poison-pill/
https://economictimes.indiatimes.com/tech/technology/after-musk-jack-dorsey-slams-twitters-board-amid-takeover-push/articleshow/90904651.cms
Stay up to date. Follow us: