Michael Burry Couldn't Resist Tweeting a Few Words About Twitter's Largest Shareholder

Hedge fund manager Michael Burry (recognized from the book and movie "The Big Short") has a substantial following of investors that peruse his firm's investment positions and analyze his Twitter musings. Last year his firm's growing short position in Tesla (TSLA) made news. This week he openly applauded Tesla's CEO Elon Musk after he was appointed to Twitter's Board of Directors. Burry's sentiments were in a Tweet to his 676 thousand followers.
Dr. Michael J. Burry
Michael Burry, who is perceived to be temperamental, will often delete
his Tweets shortly after posting and has frequently deactivated his blue check-marked account. The Scion Asset Management founder, who is also a medical doctor, seems to see things through a different eye and uses social media to vent and express frustration – then, he usually unwinds his posts like a bad trade.
Elon Reeve Musk
Elon Musk is a frequent Twitter user and seems to revel in the attention his posts attract. He is not one to shy from controversy. Some of his posts and comments to his 81 million followers have complained about the social media platform's content moderation and heavy and uneven handedness.
Burry's Point of View
When Musk, currently the richest guy in the world, disclosed his 9.2% ownership stake in Twitter, Michael Burry expressed his approval on Twitter under his pseudonym "Cassandra." The short but controversial Tweet has since been taken down. Musk's ownership position places him as the largest shareholder of Twitter and warranted an invite to become a Board member, which he accepted.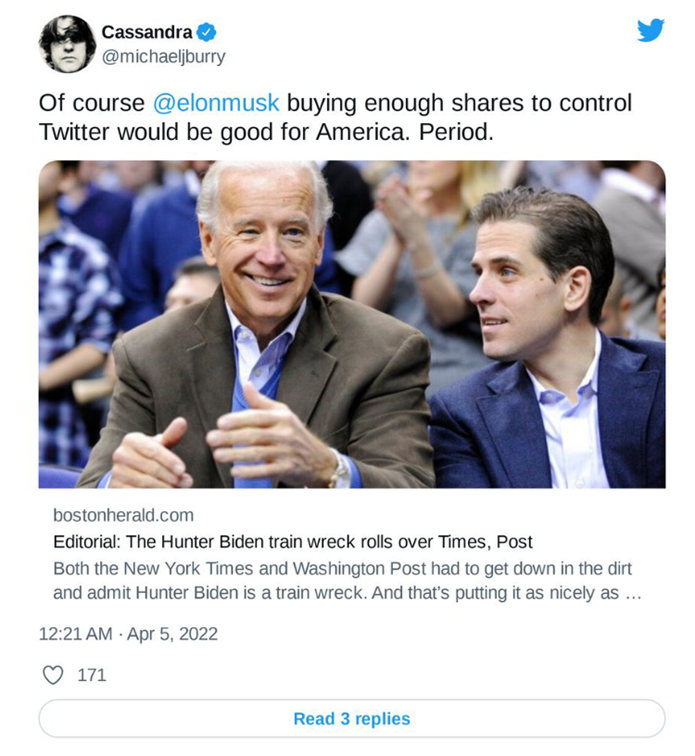 The hedge fund manager's response to the news that the Tesla CEO, who's stock value he once thought was "ridiculous," may now have a big say in the direction of Twitter was one of approval. Burry used an editorial from The Boston Globe to define his words which read, "Of course @ElonMusk buying enough shares to control Twitter would be good for America. Period." The Tweet (see image above) has since been deleted.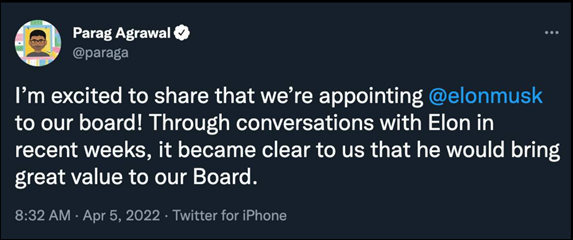 Tweet from Twitter's CEO Parag Agrawal
The Editorial
The editorial discusses how the Washington Post and the New York Times once dismissed a report in The New York Post related to the contents of the MacBook hard drive owned by the son of then-presidential candidate Joe Biden. Twitter, during the election, restricted the New York Post story from being circulated on its platform. Twitter went as far as to suspend the account of The New York Post related to the news.
Excerpt from Boston Herald, April 3, 2022
As the Boston Globe editorial points out, the Washington Post and New York Times are now admitting the laptop hard drive was genuine (18 months later). The feeling Burry seems to be expressing is that a more open social media platform would not have censored this story, and less censorship is positive for the country.
Dr. Burry seems to believe that Elon Musk will help steer the company toward a freer exchange of ideas and information.
Managing Editor, Channelchek
Suggested Reading
Sources
https://nypost.com/2022/04/06/big-short-investor-elon-musks-twitter-buy-good-for-america/
https://markets.businessinsider.com/news/stocks/big-short-michael-burry-twitter-elon-musk-tesla-hunter-biden-2022-4
https://www.bostonherald.com/2022/04/03/editorial-the-hunter-biden-train-wreck-rolls-over-times-post/
https://www.businessinsider.com/twitter-new-york-post-hunter-biden-article-lawfully-restricted-fec-2021-9
https://twitter.com/michaeljburry/status/1511136888664510464
https://twitter.com/elonmusk/status/1460370293978013699
https://nypost.com/2022/03/30/washington-post-admits-hunter-biden-laptop-is-real/
Stay up to date. Follow us: