Companies by Sector
More than 6000 listed
Communication Services
Telecommunication Services
Consumer Cyclical
Advertising & Marketing Services
Furnishings, Fixtures & Appliances
Homebuilding & Construction
Manufacturing - Apparel & Accessories
Manufacturing - Apparel & Furniture
Retail - Apparel & Specialty
Consumer Defensive
Beverages - Non-Alcoholic
Financial Services
Diversified Financial Services
Healthcare
Healthcare Providers & Services
Medical Devices & Instruments
Medical Diagnostics & Research
Medical Instruments & Equipment
Industrials
Farm & Heavy Construction Machinery
Transportation & Logistics
Utilities
Utilities - Independent Power Producers

New Era of Gene Therapy
(Note: companies that could be impacted by the content of this article are listed at the base of the story [desktop version]. This article uses third-party references to provide a bullish, bearish, and balanced point of view; sources are listed after the Balanced section.)
Gene therapy is a biological product that mediates its effect by transcription and/or translation of transferred genetic material by integrating into the host genome. It is administered as nucleic acids, viruses, or genetically engineered microorganisms. In gene therapy, a normal gene is inserted into the genome, often via a viral vector, to replace an abnormal gene responsible for causing a certain disease. The first clinical protocol introducing a foreign gene into humans was approved by the Recombinant DNA Advisory Committee (RAC) in December 1988. On September 14th, 1990, the U.S. Food and Drug Administration (FDA) approved for the first time treatment of a human patient with an experimental gene therapy. Two children were suffering from adenosine deaminase deficiency (ADA-SCID), a monogenetic disease leading to severe immunodeficiency. They were treated with white blood cells taken from their own blood (autologous therapy) and modified ex vivo to express the normal gene for making adenosine deaminase. After twelve years performing experimental protocols, Glybera (alipogene tiparvovec) became the first approved gene therapy, intended to treat lipoprotein lipase (LPL) deficiency, by European Medicines Agency in 2012 (Exhibit 1). However, Glybera was never approved by FDA in the U.S.
Exhibit 1. History of Gene Therapy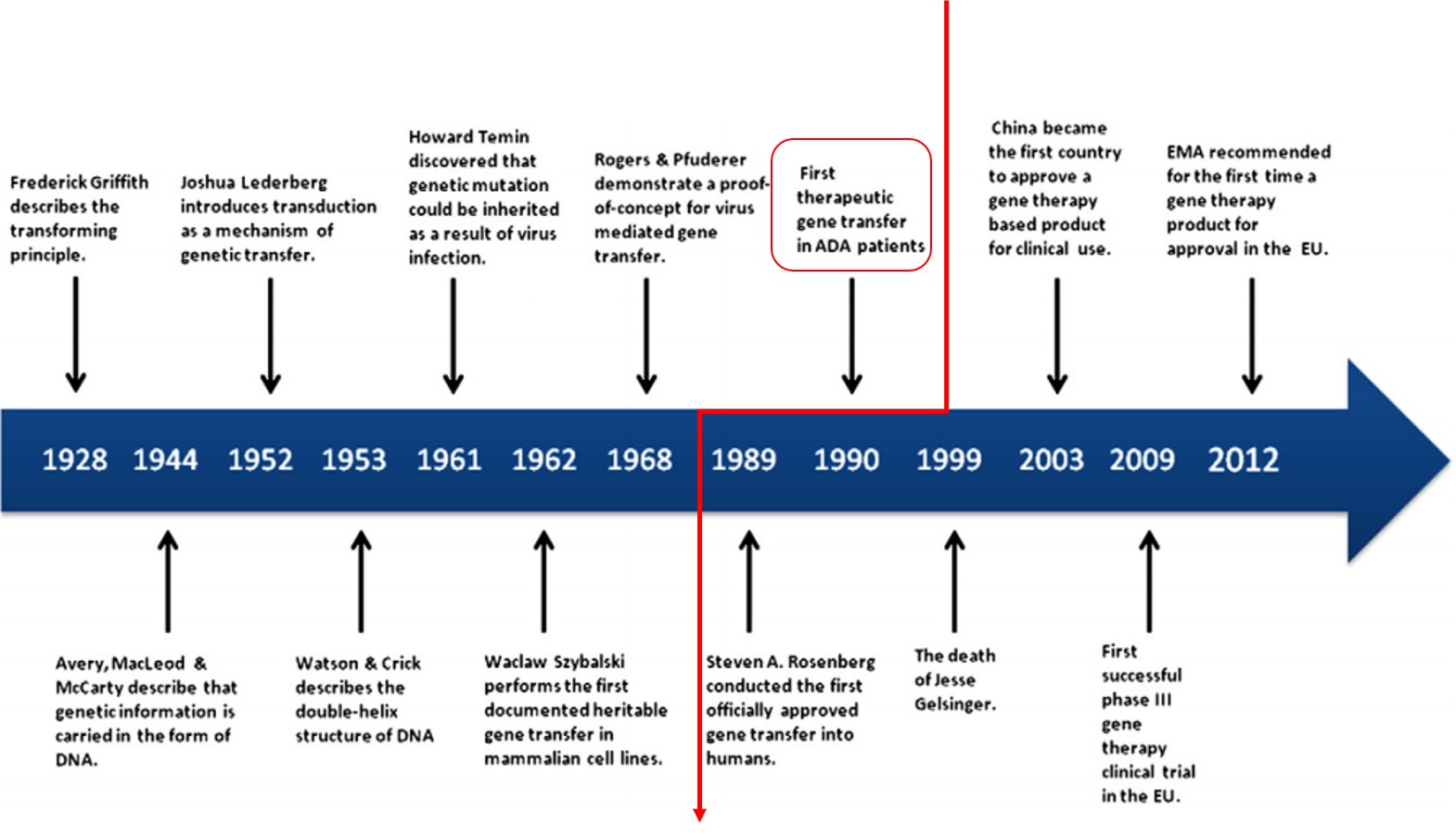 Source: T. Wirth et al., Gene 525 (2013) 162–169
Over the three decades since the first clinical trial, there have been many attempts using gene therapy for treatment of various indications. Among over 2 thousand clinical trials, the majority focused on cancer indications (65%, Exhibit 2). Despite many early failures, there is an increasing number of therapeutic successes in human clinical trials being reported in recent years. As a result, investments in gene therapy technologies are increasing rapidly. The disease targets of gene therapy are currently center around rare, inherited genetic diseases.
Exhibit 2. Various Indications Addressed by Gene Therapy in Clinical Trials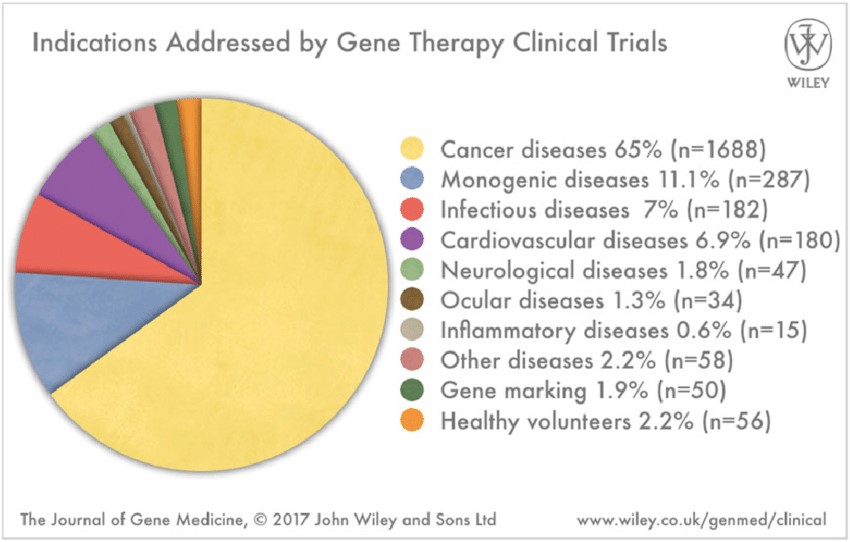 Source: The Journal of Gene Medicine, 2017, John Wiley and Sons Ltd.
Gene editing, delivery, and manufacturing are challenging. Gene therapy is a complex process with a requirement of improvement in tools and techniques. This complex process carries multiple challenges including off-target effects (genetic mutations such as insertions or deletions on genes other than the targeted gene), and others throughout delivery and manufacturing. There are challenges in delivering all the components required for editing into target cells. Certain gene therapy modalities continue to suffer from capacity constraints and high cost.
Lack of long-term efficacy data. Majority of the marketed gene therapies were granted approval via accelerated approval path by FDA. The clinical trials are conducted by assessment of surrogate endpoints that include changes in gene or protein expression. However, we are yet to discover whether these markers will translate into long-term efficacy in patients.
High cost of products in the market. The currently approved gene therapies range from $800 thousand to over $2 million. Spark's Luxturna, which is used to treat inherited vision loss/blindness, has a listed price of $850,000. Novartis's Zolgensma (AveXis) is priced at $2.125 million for a one-time, curative treatment for SMA. The therapies are costly to the health system and U.S. healthcare system is not set for one-time large payments. As individuals frequently change health insurance in U.S., insurance companies are not willing to pay for treatments that may only become cost-effective in a time frame of at least ten years.
Gene therapies may be the most complex drugs ever developed. Many challenges remain, including integrating gene delivery vectors or off-target genome editing, improving gene transfer or editing efficiency to levels necessary for effective treatment of many diseases, addressing immune responses to repeated in vivo administration of vectors, high cost of goods and payment for expensive curative therapies. Despite these challenges, gene therapies have provided hope for patients with debilitating diseases. Nevertheless, our knowledge continues to grow and during the course of treatment on efficacy and safety data that has become available to develop better gene therapy approaches. The increased understanding of molecular medicine and disease combined with scientific advancements will provide more specific and efficient gene editing (e.g., CRISPR) and transfer, superior manufacturing capacities leading to a greater clinical benefit in patients in a cost-effective manner.
References
Gene 525 (2013) 162–169 , history of gene therapy
Nature Genetics volume 2, pages93–98(1992), A brief history of gene therapy
Journal of Gene Med. 2018; e3015, Gene therapy clinical trials worldwide to 2017
Evaluate Pharma
Company
Ticker
Price
Previous
Mkt Cap
Volume
52wk Range
Lineage Cell Therapeutics, Inc.
LCTX (AMERA)
$2.04
$305.96M
0
$0.59 - $2.16
Fundamental Analysis
Genprex Inc.
GNPX (Nasdaq)
$4.04
$173.94M
0
$0.31 - $7.04
Fundamental Analysis
Advanced Market Data
()
Detailed Quote
Charts
Statistics
Financials
Historical Quotes
Insider Activity
Key Ratios