Companies by Sector
More than 6000 listed
Communication Services
Telecommunication Services
Consumer Cyclical
Advertising & Marketing Services
Furnishings, Fixtures & Appliances
Homebuilding & Construction
Manufacturing - Apparel & Accessories
Manufacturing - Apparel & Furniture
Retail - Apparel & Specialty
Consumer Defensive
Beverages - Non-Alcoholic
Financial Services
Diversified Financial Services
Healthcare
Healthcare Providers & Services
Medical Devices & Instruments
Medical Diagnostics & Research
Medical Instruments & Equipment
Industrials
Farm & Heavy Construction Machinery
Transportation & Logistics
Utilities
Utilities - Independent Power Producers


Image Credit: Bridget Samuels (Flickr)
The NobleCon18 Panel of Psilocybin Experts Clearly Demonstrated Potential Medical Benefits
The panel discussion on psilocybin at NobleCon18 was led off by one of the most credible people I have heard speaking at any investor conference about the possibilities of their industry. He was a former professional athlete whose brain function, as a result of his career choice, left him a shell of who he had been. On stage with three other CEOs, from different corners of this growing mental health field, the panel provided excitement for both the future of helping people overcome brain health issues, and providing investment opportunities in an industry which is sure to mushroom.
The Line-up
Eric Bolling, TV Personality and Host of Eric Bolling The Balance (Moderator)
Daniel Corcillo, CEO, Wesana Health (Panelist)
Evan Levine, CEO, Psybio Therapeutics (Panelist)
Ben Lightburn, CEO, Filament Health (Panelist)
Justin Dye, CEO, Schwazze (Panelist)
Expert Thoughts
Daniel Corcillo spoke directly to the audience at the open as someone who has benefitted from psilocybin treatments. Corcillo, who is now the CEO of Wesana Health (WSNAF) had played professional hockey for 12 years. During that time he had suffered seven concussions. This forced Dan's early retirement. As a husband and dad, he pushed himself to find the cure for his brain fog, depression, and dementia like symptoms.
After five years of trying all the clinical therapies that modern medicine has to offer patients like Dan, he sought supervised treatment with psilocybin. Dan laid out for the NobleCon investor audience, in the kind of detail that demonstrated that his mind was extremely sharp, his very short successful treatment. A treatment that he said, after two weeks, had him "feeling the way I should." And after six months having bloodwork that showed everything had equalized.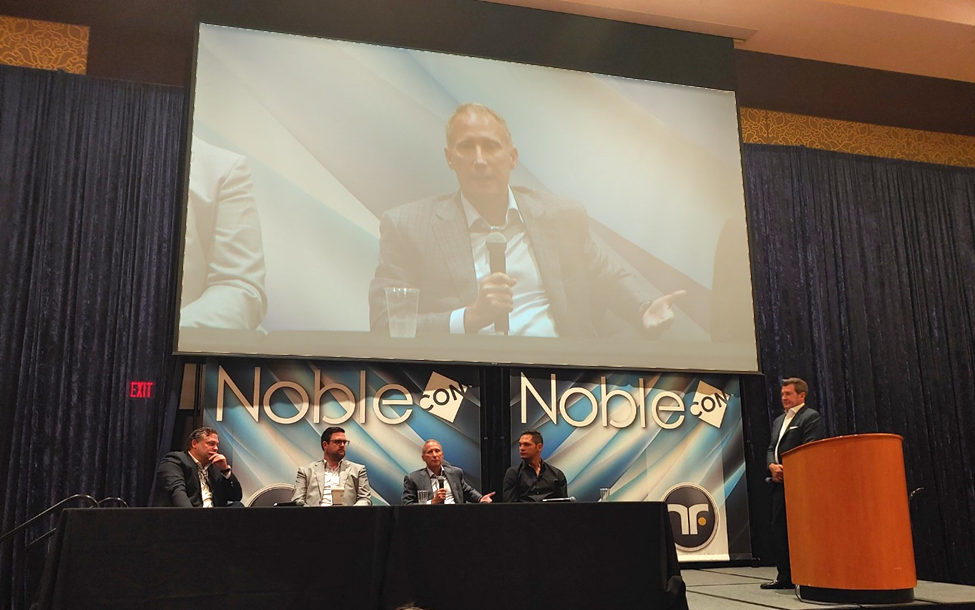 From Left to Right: Justin Dye (SHWZ), Ben Lightburn (FLHLF), Evan Levine (PSYBF), Dan Corcillo (WSNAF) and Eric Bolling (Newsmax)
It was after Mr. Corcillo shared his story that prompted him to became involved in the business itself to help others, that he was joined by Evan Levine of Psybio Therapeutics (PSYBF), Ben Lightburn of Filament Health (FLHLF), and Justin Dye of Schwazze (SHWZ).
The discussion ventured beyond mushrooms to at times include other psychedelic drugs and highly regulated substances like, MDNA, LSD, and Cannabis.
Mr. Levine's company Psybio creates biosynthetic psylocybin in a lab at a fraction of the price of growing mushrooms. From a medical treatment perspective he and his firm emphasize the benefit of knowing exactly what the measurement is for dosing.
While agreeing that precise dosing measurements are important, Mr. Lightburn expressed that botanicals (not synthetic) allow all the chemicals to make it into the final product. He said this provides what he called the "entourage effect." Other panelists referred to the interplay between chemicals as the "innate synergy."
We learned from Mr. Dye that he does not expect the "magic mushroom" market to eat into the cannabis market either from a recreational or medicinal standpoint. He explained that it is additive as medical caregivers operating on the West coast now have options as to how to best treat individual patients.
The Industry
The antidepressant industry is $100 billion and growing. SSRIs have been the standard of care since the 1980s and are fraught with problems. Opioid use is a problem that is not going away, and more research should be done concerning this problem.
Having a legal framework under which to operate could allow for faster research on products that don't have the addictive tendencies of problem drugs, have a history of safety, and are not prone to overdosing.
The industry of providing psylocibin therapeutic centers could create the need for many therapists, as the oversight is hands on and interactive for 42 hours.
While most panelists see more decriminalization of magic mushrooms locally, they don't expect full legalization, especially as it relates to recreational use. One panelist did point out that in Vancouver, un-regulated mushrooms are sold openly and even advertised in store windows.
Managing Editor, Channelchek
Suggested Reading:
Stay up to date. Follow us:
Company
Ticker
Price
Previous
Mkt Cap
Volume
52wk Range
Wesana Health Holdings Inc Com
WSNAF (OTCQB)
$0.59
$7.42M
0
$0.51 - $4.00
Advanced Market Data
()
Detailed Quote
Charts
Statistics
Financials
Historical Quotes
Insider Activity
Key Ratios