SPAC Activity Escalates to Second Highest of the Year
The calendar for Special Purpose Acquisition Companies (SPACs) is filling up again, both in SPAC IPOs and proposed merger announcements. In October, 57 SPAC offerings began trading. This is almost double September's level and well above the year-earlier total. Just yesterday a Tradestation merger deal with Quantum Fintech (QFTA) was announced. It's expected to meet shareholder approval and close the first half of 2022. The announced merger of this well-recognized name comes on the heels of the message boards and Reddit pages lighting up late last month after the Trump Media SPAC merger (DWAC) was announced.
The extreme uptick in activity follows The Securities and Exchange Commission's (SEC) new accounting guidance on SPAC warrants last Summer. This change caused many sponsors to restate financial documents. Those changes contributed to a significant loss of momentum in SPAC deals which were running at an all-time-high pace. It now seems that the slow issuance because of the regulatory and accounting rule changes has waned as SPAC sponsors seem to be playing a game of catch-up at the tail-end of this year. The new offering dearth is starting to be filled with new "blank-check" offerings. New issuance is now hitting an eight-month high.
Late last month the Trump Media Corp. deal drove SPAC deals back into the spotlight as the buzz over its merger filled message boards. That SPAC price rose 800% over two days. The stock continues to trade between 500%-600% above the preannouncement price.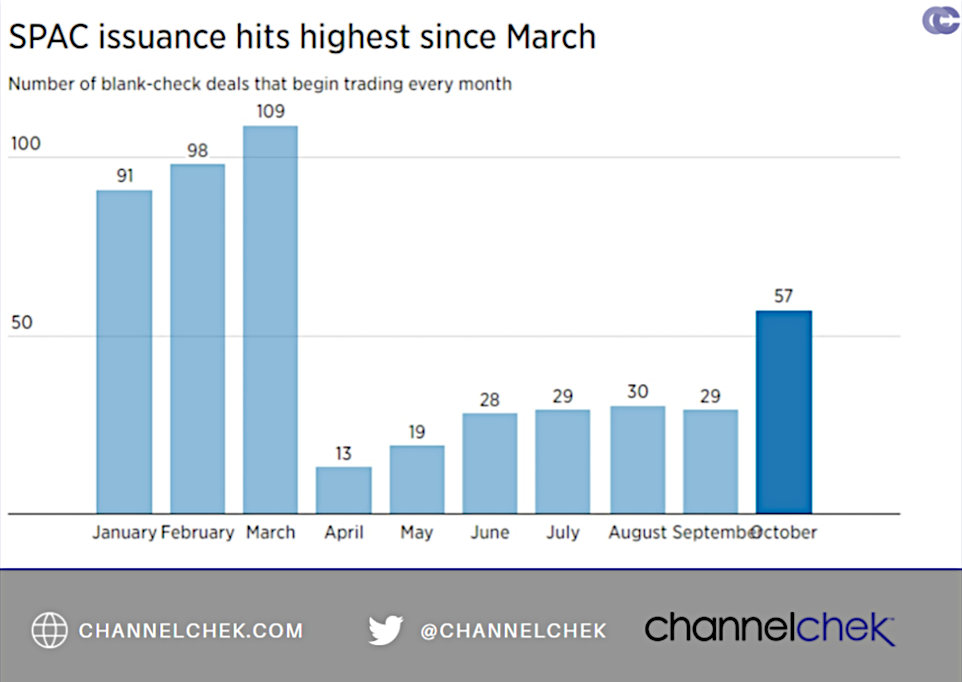 Data Source: SPAC Insider
Yesterday Quantum Fintech (QFTA) announced their intent to take Tradestation the Florida-based online broker and proprietary software company public via a $1.43B SPAC Merger. The deal is expected to close in the first half of 2022. Tradestation will then trade under the ticker symbol TRDE.
Of those companies further along in the process and poised to merge soon is ISOS. In a $2.6B deal, Isos Acquisition Corp. is arranging to merge soon with Bowlero and trade under the ticker BOWL. Bowlero is the world's largest owner and operator of bowling centers and owner of the Professional Bowlers Association (PBA).
Regulatory
Environment
While it seems the SEC threw some cold water on what began as a rampant pace for blank check companies and targets that may have looked to attract them, the accounting changes and move toward greater disclosure can be seen as in line with the Commission's purpose. SEC Chairman Gary Gensler has shown concern over what he calls misaligned interests and transparency issues between sponsors and shareholders, any adjustments to these places investor interests as a priority.
Take-Away
SPAC activity is above its year-ago level and accelerating. There are a number of reasons investors may be interested in getting involved with so-called blank check companies, including the possibility of being on the ground floor of a deal they may not otherwise have been able to get involved in.
There are safety levers for those invested in a SPAC that are unique to its structure. While high profile deals such as those mentioned above don't always form out of each SPAC, investors applying the same level of research they do to other financial decisions may find they can add a new level of diversification to their current asset mix.
Suggested Reading:
Sources:
https://www.cnbc.com/2021/04/21/spac-transactions-come-to-a-halt-amid-sec-crackdown-cooling-retail-investor-interest.html
Stay up to date. Follow us: