Companies by Sector
More than 6000 listed
Communication Services
Telecommunication Services
Consumer Cyclical
Advertising & Marketing Services
Furnishings, Fixtures & Appliances
Homebuilding & Construction
Manufacturing - Apparel & Accessories
Manufacturing - Apparel & Furniture
Retail - Apparel & Specialty
Consumer Defensive
Beverages - Non-Alcoholic
Financial Services
Diversified Financial Services
Healthcare
Healthcare Providers & Services
Medical Devices & Instruments
Medical Diagnostics & Research
Medical Instruments & Equipment
Industrials
Farm & Heavy Construction Machinery
Transportation & Logistics
Utilities
Utilities - Independent Power Producers


	
Walmart's Blockchain History to Add a New Chapter
Walmart seems to be following Amazon in mapping out the most appropriate path to embrace cryptocurrency as a form of payment. Walmart, the number one retailer in the U.S., just ran a LinkedIn ad seeking a director who will "Own and drive the Digital Currency strategy for Walmart." Crypto traders are viewing this as a further mainstreaming of the asset class, and acceptance as a payment form.
Based on the ad, there is an active search for someone to fill this lead role and the position will be at Walmart HQ in Bentonville, Arkansas. The position as described will be tasked to, "Identify Crypto related investment and partnerships" and "Identify customer needs and translate them into product requirements."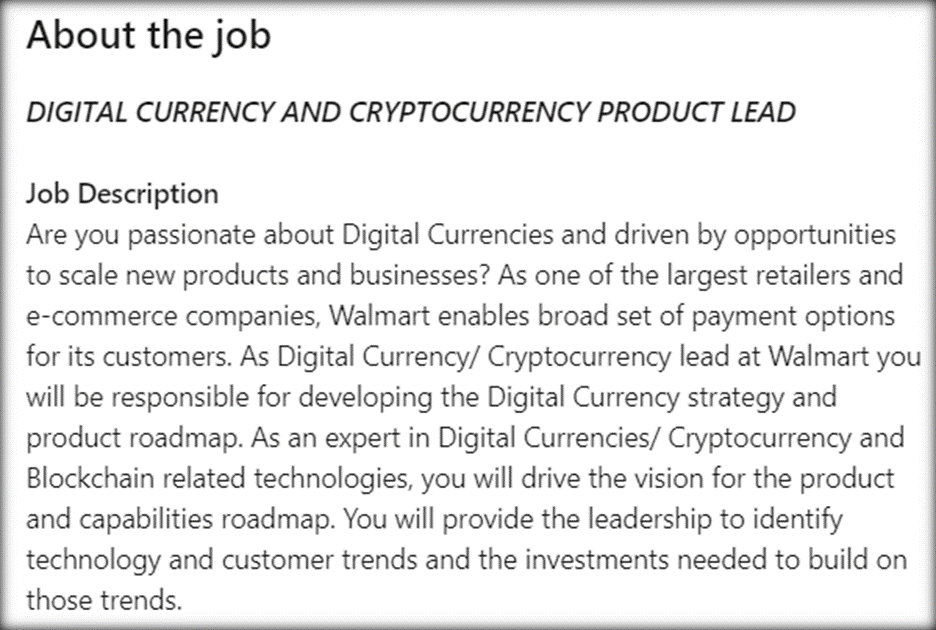 Source: LinkedIn/jobs
Walmart's Blockchain History
It is unclear at this point whether Walmart's design and implementation of a digital currency payment solution will involve the use of the current large cryptocurrencies such as Bitcoin. However, the company has been embracing the technology for a while. In August of 2019, Walmart filed an application with the U.S. Patent and Trademark Office. In their application, Walmart was seeking a stablecoin currency "tied to a regular currency." Other features suggested within the broad patent filing included the ability to replace the need for credit cards with consumers acting as a "pre-approved biometric (e.g., fingerprint or eye pattern) credit."
Walmart is already using blockchain for tracking products like perishable produce and pharmaceuticals. The retailer has also been investigating various technology use cases, with projects including connecting automated delivery drones.
There are no public updates related to the stablecoin patent application.
Take-Away
If the number one and two retailers in the U.S. (Kroger is #3) become open to accepting digital currency and even retaining some in reserve as a strategic asset, the understanding and acceptance of its uses will leap forward for a large part of the population. Together the two firms would be responsible for introducing tens of millions of shoppers to the ledger technology. This may not cause them to understand how or why it serves as a payment method, but it could cause many to drop their fears and adopt crypto payments far quicker than if they had no connection in their day-to-day life.
Suggested Reading:
Sources:
https://www.linkedin.com/jobs/view/digital-currency-and-cryptocurrency-product-lead-at-walmart-2680351507/
https://www.coindesk.com/walmart-wants-to-patent-a-stablecoin-that-looks-a-lot-like-facebook-libra
https://www.coindesk.com/walmart-explores-blockchain-for-connecting-automated-delivery-drones
Stay up to date. Follow us: