Companies by Sector
More than 6000 listed
Communication Services
Telecommunication Services
Consumer Cyclical
Advertising & Marketing Services
Furnishings, Fixtures & Appliances
Homebuilding & Construction
Manufacturing - Apparel & Accessories
Manufacturing - Apparel & Furniture
Retail - Apparel & Specialty
Consumer Defensive
Beverages - Non-Alcoholic
Financial Services
Diversified Financial Services
Healthcare
Healthcare Providers & Services
Medical Devices & Instruments
Medical Diagnostics & Research
Medical Instruments & Equipment
Industrials
Farm & Heavy Construction Machinery
Transportation & Logistics
Utilities
Utilities - Independent Power Producers


	
Does Cathie Wood's ESG Fund Have it Wrong?
ARK Invest's Cathie Wood is diversifying her fund offerings to include a non-managed ETF that is focused on corporate governance and transparency. This ninth ETF offering for ARK is a little "out-of-the-lines" for the investment company Wood founded and is being greeted with some criticism from both her current followers and ESG investors.
About the New Offering
The ARK Transparency ETF (CTRU) will start trading Wednesday (December 8). This year net flows into ESG mutual funds and ETFs have been outpacing 2020s record year. During the first nine months of 221, $577 billion have flowed into ESG funds. Compare this to $355 billion for all of 2020. The new fund will help ARK Invest diversify from the high-tech and disruptive tech offerings currently managed by the firm. This alternative offering could help capture more AUM from the booming demand for investments in companies that meet a high degree of environmental, social, and governance standards. The new ARK ETF is expected to more heavily weight holdings with more corporate transparency than other funds in the category. CRTU will have an expense ratio of 0.55%, this is approximately .20% lower than most ARK funds.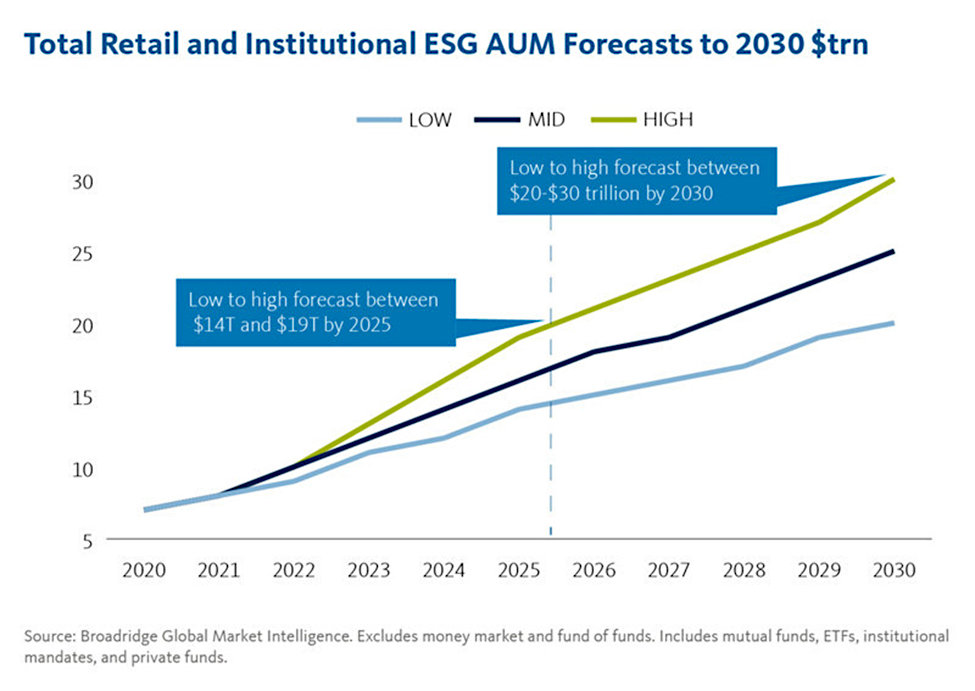 Will Investor Enthusiasm Follow?
Unlike most ARK ETFs, CRTU won't be actively managed. Also, it does not fall into the category Wood is best known for, innovative disruptors. Instead, it tracks an index of the 100 most transparent companies using criteria like how the company discloses information in corporate documents and lawsuit involvement. It explicitly excludes alcohol, gambling, chemicals, and fossil fuels.
The fund has a different flavor than many ESG funds. As mentioned earlier, it is heavily focused on corporate governance. The majority of the ESG funds on the market are broader in scope and more evenly weighted across the ESG spectrum. Those that are weighted, generally are more environmentally focused, green funds.
Differentiation
The new fund, although deviating from other ARK themes, still contains many disruptive companies. The index being used had a 42% weighting in tech stocks as of Sept. 30. This is an overweight compared with the S&P 500 index which holds 28%. Top holdings included cloud infrastructure provider DigitalOcean Holdings (DOCN) and software giant Salesforce.com (CRM). Some of ARK's favorite stock picks, such as Tesla (TSLA), Teladoc Health (TDOC), and Zoom Video Communications (ZM), were also on the list. All 100 holdings are equally weighted at the quarterly rebalance.
The index also has heavier exposure to consumer discretionary and industrials, and lower in healthcare and communication services. Financials, which make up 11% of the S&P 500, are reduced to just 2%, since banks are excluded from the index due to their lack of fiduciary behavior, poor data privacy, and high fees. Energy, utility, and real estate stocks were also nowhere to be found.
The underlying index of the new fund, based on backtesting, gained an annualized 34.7% from Oct. 1, 2016, to Sept. 30, 2021, while the S&P 500 returned just 16.9%.
ARK Invest's last new fund, the ARK Space Exploration & Innovation ETF (ARKX), was launched in March 2020. It was popular and secured over $500 million in assets within a week. ARK is a major U.S. fund manager with nearly $33 billion in AUM in its ETFs. The founder and CIO has a loyal following, and has become a recognizable public figure. Cathie Wood's Twitter account has more followers than Blackrock or Vanguard which are behemoths in the ETF industry.
Suggested Content:
Sources:
https://www.broadridge.com/white-paper/asset-management/esg-and-sustainable-investment-outlook
https://www.barrons.com/articles/cathie-wood-ark-new-transparency-etf-51638917360?mod=hp_DAY_6&tesla=y
Stay up to date. Follow us: