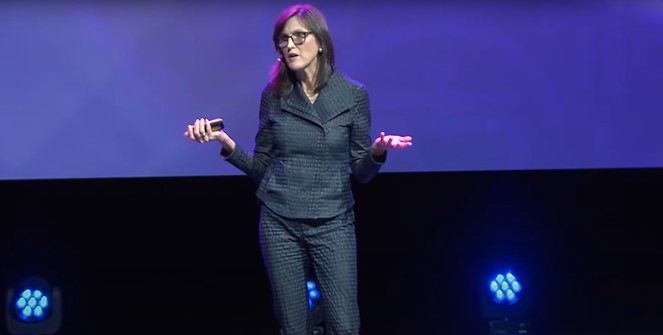 An Alternative View of Today's Economy by Cathie Wood
Cathie Wood made the argument that investors comparing the current economic crosscurrents to the 1970s are developing forecasts based on the wrong data-set. Speaking at the Finimize Modern Investor Summit via video, the ARK Invest funds founder instead suggested the current economy and inputs are similar to a different period – she then made a case for her reasoning.
"If you go back to the 19-teens (1912-1922), then the period was very similar to the period we're in today," she said at the Investor Summit. That period featured a war, a pandemic (Spanish flu), and supply-chain problems. "It was the most prolific period for innovation in history," she said, pointing to the disruptive impact of electricity, the telephone, and the car.
Wood explained that inflation went from 24% in June 1920 to -15% in June 2021. She made clear she isn't forecasting deflation this severe; however, she is expecting year-over-year inflation to swing into negative territory, with prices going down. "What has happened during the last few years is going to flip, and we think that the market will flip back to a preference for growth stocks and our innovation strategy," she said.
Wood also elaborated on a tweet she issued earlier about how deep the inversion was of the yield curve.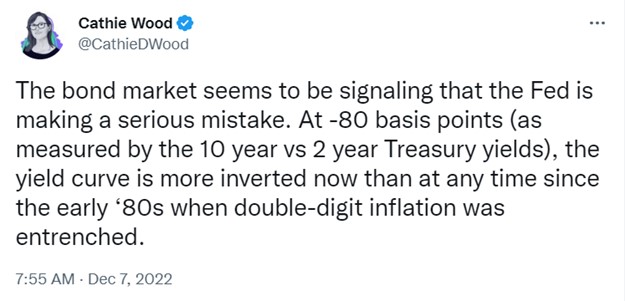 "That's the bond market saying, 'hello, Fed, are you watching?'" She said Federal Reserve Chair Jerome Powell is trying to be the reincarnation of Paul Volcker at a time when it's not appropriate. "I think that's a mistake because this is not a 15-year problem; it's a 15-month one," said Wood. She highlighted that commodity prices are tumbling, supply chains are improving, and companies are
Ark Invest funds have been positioned in a more concentrated waiting pattern while Wood waits for inflation dynamics to be supportive of innovation. She gave an example; the innovation fund, for instance, has been narrowed to 32 companies from 58, Wood said, as she highlighted that the firm has become less convinced China is supportive of innovation.
Take Away
It's worth reviewing the differing opinions of several investors that have made above-average returns in their careers. While almost no one is always correct, there are many different right ways to make money in any market.
The Ark flagship fund is down 63% this year; in the past, Wood has indicated her funds' time period to measure return is five years, not one. Perhaps investors with a longer holding period can garner useful ideas from her pounding the deflation drum, while investors with a shorter time horizon are concerned about inflation.
Managing Editor, Channelchek