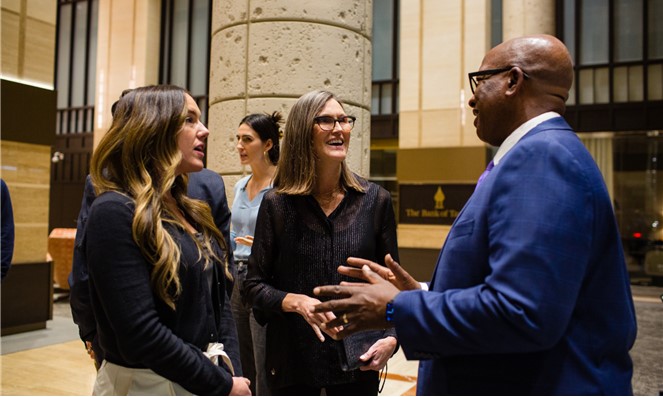 Cathie Wood Reveals 2022's Most Disruptive and Innovative Technologies
ARK Invest's Cathie Wood penned a lookback-themed article about the innovations and disruptive companies of 2022. The purpose seemed to be to remind followers that although during the year, investors may have become disheartened with innovation, 'look at the amazing opportunities that occurred.' The innovations and companies highlighted were somewhat overlooked; following the path we are accustomed to from many breakthroughs, they fly under the radar. Then, suddenly they're widely adopted. Below are many of her picks for innovation and companies she may now wish her funds held large positions in.
The Future of Internet
Suddenly everyone is talking about ChatGPT. According to Wood, artificial intelligence (AI), specifically, ChatGPT is advancing at a pace that is surprising even by standards set by earlier versions. This version of GPT-3, optimized for conversation, signed up one million users in just five days. By comparison, this onboarding of users is incredibly fast benchmarked against the original GPT-3, which took 24 months to reach the same level.
In 2022, TV advertising in the US underwent significant changes. Traditional, non-addressable, non-interactive TV ad spending dropped by 2% to $70 billion, according to Wood. Connected TV (CTV) ad spending on the same terms increased by 14% to ~$21 billion. Pure-play CTV operator Roku's advertising platform revenue increased 15% year-over-year in the third quarter, the latest report available, while traditional TV scatter markets plummeted 38% year-over-year in the US. Roku maintained its position in the CTV market as the leading smart TV vendor in the US, accounting for 32% of the market.
Digital Wallets are replacing both credit cards and cash. In the category of offline commerce. They overtook cash as the top transaction method in 2020 and accounted for 50% of global online commerce volume in 2021. As an example of the growth, Square's payment volume soared 193%, six times faster than the 30% increase in total retail spending 2019-2022 (relative to pre-COVID levels).
While overall e-commerce spending increased by 99% over the last three years, social commerce merchandise volume grew even faster. Shopify's gross merchandise volume grew by 312%, almost four times faster than overall e-commerce and taking a significant share from other retail.
Underlying public blockchains continue to process transactions despite what may be going on surrounding the connected industries. Wood says it highlights that "their transparent, decentralized, and auditable ledgers could be a solution to the fraud and mismanagement associated with centralized, opaque institutions." She explains, "After the FTX collapse, the share of trading volume on decentralized exchanges, which allow for trading without a central intermediary, rose 37% from 8.35% to 11.44%.
Genomic Revolution
Base editing and multiplexing have the potential to provide more effective CAR-T treatments for patients with otherwise incurable cancers. Cathie Wood provided an example from 2022 about a young girl in the UK with leukemia that went from hopeless in May to Canver-free in November.
In 2022 Dutch scientists at the Hubrecht Institute, UMC Utrecht, and the Oncode Institute used another form of gene editing called prime editing to correct the mutation that causes cystic fibrosis in human stem cells. Another example of how it is being adopted comes from Korean researchers at Yonsei University that used prime editing successfully to treat liver and eye diseases in adult mice.
CRISPR gene editing in Cathie's words, "has delivered functional cures for beta-thalassemia and sickle cell disease." She gives examples: CRISPR Therapeutics and Vertex Pharmaceuticals which together have treated more than 75 patients, resulting in some well-publicized "functional cures". They are expecting FDA approval for Exa-Cel, the treatment for sickle cell and beta thalassemia, in early 2023.
In the category the Ark Invest founder referred to as other cell and gene therapies, she says in 2022, regulators approved several landmark cell and gene therapies. The examples she used to highlight this are Hemgenix for the treatment of Haemophilia B, Zyntelgo for beta thalassemia, Skysona for cerebral adrenoleukodystrophy, Yescarta and Breyanzi for Non-Hodgkin lymphoma, Tecartus for mantle cell lymphoma, and Carvykti and Abecma for multiple myeloma.
Liquid biopsies, blood tests via molecular diagnostic testing are enabling the early detection of colorectal cancer which, if discovered at or before stage 1, have a five-year survival rate greater than 90%. Late-stage or metastatic cancers account for more than 55% of deaths over a five-year period, but only 17% of new diagnoses.
Autonomous Technology & Robotics
During 2022 electric vehicle maker Tesla sales increased by 49% even as automobile sales declined by 8%. Tesla's share of total auto sales in the US has increased to 3.8% from 1.4% in three years.
During 2022, GM expanded its autonomous driving taxi service to most of San Francisco in the first large-scale rollout in a major US city. Then it launched in both Phoenix and Austin late in the year. The automaker with a stodgy reputation, managed to compress the time to commercialization from nine years in San Francisco to just 90 days in Austin. Tesla, for its part, expanded access to its FSD (full self-driving) beta software to all owners in North America who had requested access.
By January 4, 2023, both Amazon and Walmart had begun deliveries using drones in select US cities. Autonomous logistics technology is no longer futuristic and is likely to continue being adopted and expanded.
Across the top 50 medical device companies, 90% rely on 3D printing for prototyping, testing, and even in some cases printing medical devices.
In 2022, SpaceX nearly doubled the number of rockets it launched to 61. It reused the same rocket in as few as 21 days, a dramatic improvement over the 356 days required for its first rocket reuse. Private Space Exploration is a reality. 61 rockets is an average of more than one per week.
Take Away
Hedge fund manager Cathie Wood took the new year as an opportunity to communicate examples of game-changing innovation that the equity market largely ignored in 2022. She finds these as confidence building that the premise of many of her managed funds is with merit. More importantly, in the face of market headwinds and media criticism, she wants these examples to help boost investor confidence "that ARK's strategies are on the right side of change." She tells readers, "innovation solves problems and has historically gained share during turbulent times."
Managing Editor, Channelchek
Source