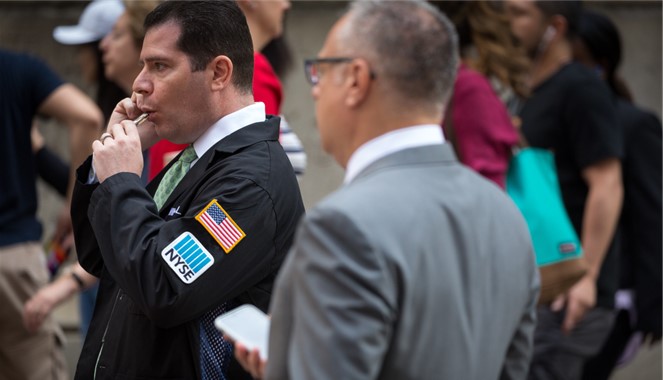 Discovering Why Trading is Halted on One of Your Stocks
Fair and orderly trading is an admirable goal of any system of exchange. As part of this ideal, exchanges, the SEC, and brokers can temporarily halt trading in stocks. The impact of news, or tripped circuit breakers designed to decelerate snowballing reactions (both human and programmed reactions), are the most common reasons to halt trading. There have also been events when a computer glitch, either feeding into an exchange or into the exchange's systems, has triggered a pause or a halt. A total of 77 stocks were reportedly halted after the opening on the NYSE (January 24). They were all labeled "LULD," this code is used to indicate it was a volatility trading pause. But officials at the NYSE say they're still looking into it.
Reasons to Halt Trading
Companies listed on a U.S. stock exchange are responsible for notifying the listing exchange about any announcements or corporate developments that might affect trading in its stock. These often include:
Changes related to the financial health of the company
Changes in key management individuals
Major corporate transactions like restructurings or mergers
Significant positive or negative information about its products
Legal or regulatory developments that affect the company's ability to conduct business
A circuit breaker has been reached due to volatility
Stock Halt Codes
Each day the exchanges list stocks as they are paused or halted and include a code to indicate the reason. The codes help market participants understand for how long it may be halted and for what general reason. It's a good idea to be familiar with the codes shown below.
LUDP or LULD: Volatility trading pause (high volatility risk for investors).
T1: News pending (halted to give investors of all varieties ample time to evaluate).
H10: This is not enacted by the exchange but instead by the SEC (could be any number of regulatory reasons).

The reason for the recent multiple stock pauses was available immediately on the NYSE website. Many of the stocks showed they were opening down substantially; the exchange says they are looking into this further.  
There are also times when a circuit breaker stops trading across the market exchange. This is not the reason for the multiple pauses experienced in January, but also worth mentioning. There are three levels of halt based on size of the markets (S&P 500) move.
Level 1: 15-minute halt due to a 7% decrease from the S&P 500's previous close
Level 2: 15-minute halt due to a 13% decrease from the S&P 500's previous close
Level 3: Day-long halt due to a 20% decrease from the S&P 500's previous close
Take Away
When the market opens and it is not business as usual, a lot of frustration can be saved by knowing market rules and finding resources to get a fast answer. While other traders wait for their favorite news service to report on it, going directly to the NYSE website to, in this case, get a listing of affected stocks and why, can put you ahead of those that are waiting for CNBC or another news outlet. Nasdaq also will post paused or halted stocks and use the same codes as above to indicate why.
Managing Editor, Channelchek
Sources
https://www.forexfactory.com/news/1201898-nyse-trading-open-sees-unusual-number-of-halted
https://www.zerohedge.com/markets/market-goes-haywire-dozens-nyse-trading-halts-open-after-technical-glitch
https://www.finra.org/investors/investing/investment-products/stocks/trading-halts-delays-suspensions
https://www.bloomberg.com/news/articles/2023-01-24/nyse-sees-unusual-number-of-trading-halts-at-open-of-trading-ldacqfyp?srnd=premium