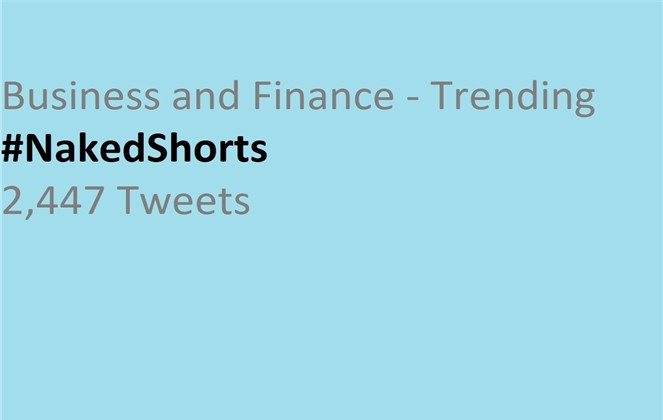 Small-Cap Companies are Punching Back on Naked Shorts in Growing Numbers
The hashtag #NakedShorts has been trending on Twitter for over a week. To save Channelchek readers any embarrassment that may occur from Googling this term, especially at work, below are specifics on this market jargon. Also included below are specifics on why this has been trending and how it may impact self-directed retail traders and even small publicly traded companies that have the potential to be impacted by an illegal practice that apparently is not uncommon.
What are Naked Shorts?
Naked short selling of stocks is the illegal practice of short-selling shares that have not been allocated and verified to exist. Most shorting of stock occurs only after the trader borrows the security or determines that it can be borrowed before they sell it short (without owning). So naked shorting refers to short pressure on a stock that may actually be larger than the tradable shares in the market. This can place downward pressure on shares as they are sold, at times in excess of their existence.
Despite being made illegal after the 2008–09 financial crisis, naked shorting continues in practice because of loopholes in rules and discrepancies between physical and electronic trading systems.
Small Caps Revenge
Empowered by the activities of Gamestop (GME) and others, a growing number of small-cap companies are devising plans to go after naked short sellers. This could help their companies trade at a fairer value rather than be artificially depressed by illegal trading practices.
Companies involved in heightening integrity in the markets for their stock are companies like Verb Technology Co. Inc. (VERB), a provider of interactive video-based sales apps with operations in Newport, California, and Lehi, Utah. Verb said this week it was joining education company Genius Group Ltd. (GNS), e-scooter and e-bike maker Helbiz (HLBZ), and Creatd Inc. (CRTD) designed for creators in coming up with measures to ensure "greater integrity in the capital markets" as Verb Chief Executive Rory J. Cutai said in a statement.
The move gained impetus last week as Genius Group said it had appointed a former F.B.I. director to lead a task force investigating alleged illegal trading in its stock, first disclosed a few weeks ago. Genius CEO believes there has been a measurable cost to the company. "We want this to stop," he said. "They're taking value away from our shareholders. They're predators. They're doing something illegal, and we want it to stop, whether that means getting regulators to enforce existing regulations or put new ones in place," he said.
Legality of Naked Short Selling
In regular (legal) short trading, an investor borrows shares from someone else and pays an interest rate or "rebate rate." They then sell them in anticipation of the stock price falling. The trade is a winner if the price falls and the seller buys them back at a lower price (netting out rebate rate) to close out the open short sale.
In naked short selling, investors don't borrow the stock. They skip right to selling unowned with a promise to deliver them at a later date. If that promise is not fulfilled, it's a failure to deliver.
Recently, companies such as AMC have paid a special dividend to determine, and frankly hurt, those short sellers that have not abided by the rules by first borrowing the security it sold.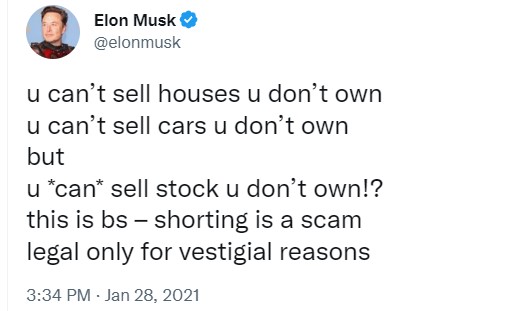 What Some Companies are Doing
Last week Helbiz said it was going to punch back at naked short positions. Creatd CEO Jeremy Frommer, meanwhile, is behind Ceobloc, a website that aims to end the practice of naked short selling. "Illegal naked short selling is the biggest risk to the health of today's public markets" is how the site introduces its mission.
Genius just set guidance for 2023, saying it expects revenue of $48 million to $52 million, up 37% from its 2022 pro forma guidance. Last Thursday, the stock rose a record 290% in volume of about 270 million shares traded. That crushed the daily average of about 634,000. The CEO says this is another indicator of wrongdoing, given that the company's float is just 10.9 million shares. "Clearly, that's far more shares than we created," the founder, Roger Hamilton points out.
Take Away
It is unclear what the task force of the small-cap companies intends to do. Companies like AMC Theaters (AMC) waged war by declaring a dividend that was a different class of stock. Shareholders would have to verify their ownership of a registered share in order to receive the dividend. This went a long way to verify what is in the float that is legitimate and that which is not.
Managing Editor, Channelchek
Sources
https://www.marketwatch.com/story/small-cap-companies-are-going-after-naked-short-sellers-in-growing-numbers-its-the-biggest-risk-to-the-health-of-todays-public-markets-11674480805?mod=newsviewer_click