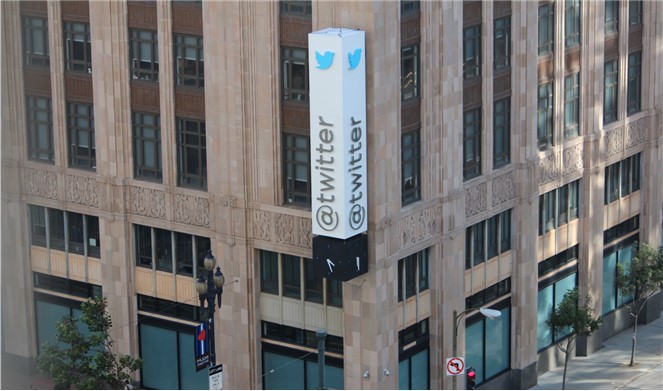 "Twitter Files" May be With us For a While
The hashtag #TwitterFiles is trending on Twitter and is likely to be for some time to come. After Elon Musk released the first set of documents that strongly suggests wrongdoing by both political parties, agencies of the government, and perhaps even elected officials, Twitter founder and former CEO Jack Dorsey joined the discussion on the social media/microblogging site. Dorsey's tweet suggested impatience with the method with which Musk is sharing what is discovered within the Twitter offices and files.
Dorsey (@Jack) tweeted on Wednesday, "If the goal is transparency to build trust, why not just release everything without filter and let people judge for themselves?" He further tweeted, "Including all discussions around current and future actions? Make everything public now. #TwitterFiles."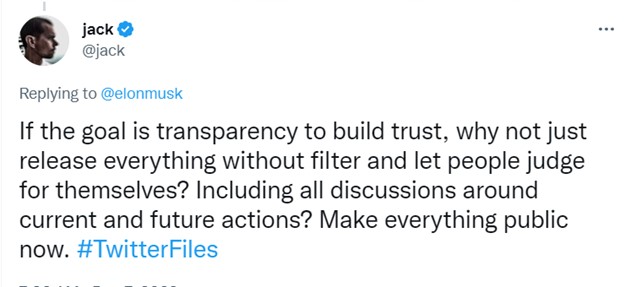 Elon Musk, who has promised to make Twitter more open tweeted back, "Most important data was hidden (from you too) and some may have been deleted, but everything we find will be released."

The cause for Dorsey's tweet may have been the result of learning that Jim Baker, a former FBI lawyer, was filtering documents released in the exposé. This was mentioned by Matt Taibbi the writer of the first installment of the "Twitter Files." Taibbi suggested there is a delay in getting the second installment out because Baker was filtering documents to be released in the exposé, leading to the delay of the second batch of information. The journalist chosen to present the second installment of the Twitter files is named Bari Weiss.
Jim Baker has a reputation that includes distrust, and his name is often preceded by the word "disgraced [former FBI agent]." "The news that Baker was reviewing the 'Twitter Files' surprised everyone involved, to say the least," Taibbi tweeted Tuesday night. " Twitter chief Elon Musk acted quickly to 'exit' Baker Tuesday."
Future installments are being compiled, according to Taibbi. "Reporters resumed searches through Twitter Files material — a lot of it — today," he tweeted. "The next installment of 'The Twitter Files' will appear @bariweiss. Stay tuned."
Does Jim Baker deserve to be scorned? Baker's alleged involvement in the Twitter censorship of the Hunter Biden laptop in the final weeks of the 2020 presidential election has become a news story all its own, in a blog post by Jonathan Turley who is a constitutional law expert, Turley wrote a review titled "Six Degrees from James Baker: A Familiar Figure Reemerges With the Release of the Twitter Files."
Was Dorsey involved in censorship? As for Dorsey's level of involvement in censorship at Twitter before he was forced out, Taibbi referenced the former executive a number of times. "An amazing subplot of the Twitter/Hunter Biden laptop affair was how much was done without the knowledge of CEO Jack Dorsey, and how long it took for the situation to get 'unf***ed' (as one ex-employee put it) even after Dorsey jumped in," Taibbi tweeted Friday.
"There are multiple instances in the files of Dorsey intervening to question suspensions and other moderation actions for accounts across the political spectrum," Taibbi tweeted.
There is nothing better than drama to draw people to social media platforms. Musk's open file policy is creating substantial drama and, for many, increased usage of Twitter. If Musk was to release the files all at once, as suggested by Jack Dorsey, the platform would have one large burst of activity and then settle down. The method he instead is using to share information includes assigning a journalist to unveil batches of documents, and this ought to keep the #TwitterFiles trending into 2023 and increase Twitter's user base.
Managing Editor, Channelchek
Sources
https://www.newsmax.com/newsfront/jack-dorsey-twitter-twitter-files/2022/12/07/id/1099552/?fbclid=IwAR2282nibsrSQorrtVo3q62HjZPFMps-usQ8PxbB6MlKINwT-100msznpA0