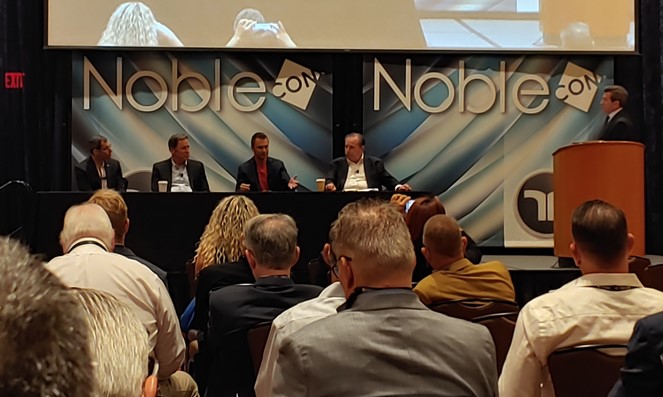 Why NobleCon19 Will Provide Even Greater Benefit to Presenters and Investors
In a significant announcement, the organizer of one of the investment industries leading conferences released information on an update to the annual event's conference facility for 2023 along with format enrichments. The changes are designed to improve the overall benefit to presenting companies, corporate sponsors, and institutional and individual investors. In a press release dated March 1, 2023, Noble Capital Markets, along with Florida Atlantic University, gave details of the special location, and provided information on some of the many reasons why the 19th NobleCon investor Conference (NobleCon19), will provide even more value to the company's presenters and attending investors.
The New Facility
NobleCon19 will take advantage of the entire 54,000-square-foot College of Business Executive Education facility at Florida Atlantic University (FAU). The new facility in Boca Raton, FL, will provide tiered seating, which will provide easier visibility for both presenters and attendees. Investors will find the three large-screen monitors in each presenting room will make it easier to see and comprehend the presenters slide deck and other materials. Seeing the screen is a problem at many conferences of this magnitude. As a newly built presentation center, there will be full webcasting capabilities that include the most current technologically advanced conference environment.
Florida Atlantic University is surrounded by beauty. It's in Boca Raton, Fl, which allows attendees to choose to stay on the ocean or at one of the other properties where conference organizers are negotiating discounts. South Florida is a popular destination for travelers from all over the world.

NobleCon19 Format
NobleCon19 has always led the industry in its ability to place investors and executives of small-cap companies in a position to explore and interact. This year it was announced the presentations will be followed by fire-side chats with Noble analysts, so investors can gain insight from the industry analyst and company stock expert. One-on-one meetings will also be arranged for qualified investors. Several industry panel presentations are also planned for additional discovery. NobleCon19 will also feature high-profile keynote speakers and an evening event that includes entertainment for all to unwind and meet more casually with others of similar interests.
All company presentations and panel discussions will be digitally streamed and made available exclusively on www.channelchek.com
Take Away
Noble Capital Markets, through its annual NobleCon investor conference, has always been an innovator in bringing lesser-known companies with interesting stories to investors. It attracts investors that are looking for actionable ideas that they may not have discovered through other outlets. This year's event again takes place in Florida. This is important because, over the past couple of years, the advantages of doing business in the sunshine state have drawn many new investment firms to the area. The joint press release did not say what the overall theme will be for NobleCon19; I'll be attending and personally hope its theme ties to all that is worthwhile in this fast-growing region.
Get more information related to the dates, location, and FAU's facility – click through to the press release here.
Paul Hoffman
Managing Editor, Channelchek