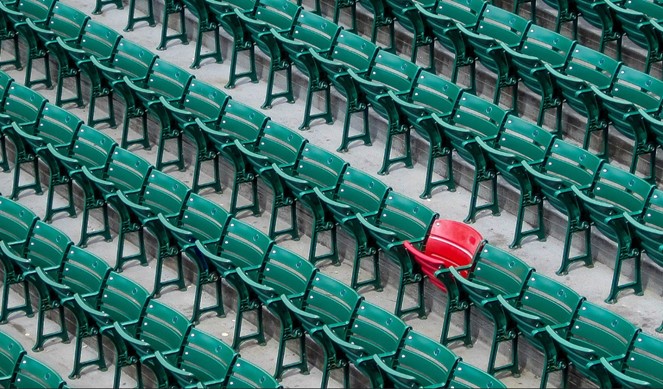 Looking Back at October and Forward to Year-End 2022
The stock market for October was a home run for many industries. In fact, only a few market sectors were negative, each by less than one percent. After a losing first three quarters in most categories, investors are now asking, are we out of the losing slump? Did I already miss the best plays? There are still two months left in 2022, and there are a number of expected events that could cause high volatility (up/down). If you've been a market spectator, you want to know, should I get on the field and maybe take advantage of this streak? If you've been involved and are now at a recent high, you may instead consider taking a seat for the last two months.
Let's look back and then forward as we enter the final two months of the year. Below we look at the month behind us in stocks, gold, and crypto. There is something that may be unfolding is stocks that is worth steering around.
Major Market Indexes for October
Large industrials, as measured by the Dow 30, had the best comparative performance in October. In fact, the Dow had its best month since 1976. Some investors have been rotating out of large high-tech and into more traditional businesses, like large industrial companies. Another reason it has gotten attention is of the 30 stocks in the Dow Industrials, at least 27 are expected to pay dividends; the lower stock prices from months of decline have raised the expected dividend yields to levels where investors are finding value and doing some reallocating. For example, Dow Chemicals (DOW)with a yield near 5% (plus any appreciations) or Verizon (VZ) at 7% can be appealing, especially for assets of retirees.
The small-cap stocks, as measured by the Russell 2000, weren't far behind the Dow 30. This group has been lagging for some time and, by many measures, including price/earnings, offers value, while many larger stocks are still considered overpriced. Another thing working in favor of small U.S.-based companies is a likely customer universe that is not hurt by a strong dollar and international trade. In fact, there are small companies that can be shown to have benefitted from a strong native currency and have a competitive advantage with lower borrowing needs. Many analysts expect continued outperformance of the small-cap sector as it offers value and less global disruption.
The top 500 largest stocks, as measured by the S&P 500, had a very good month but are being dragged down by the large weighting of a few huge companies that the market feels have gotten way ahead of where they should be reasonably priced. The Nasdaq 100, shown above as returning only around 3.6%, has been hurt by this index weighting as well. These indexes had once benefitted from these few stocks flying high during the pandemic; the post-pandemic world, as well as global headwinds, are now working against them.
Major Market Indexes Through 10/2022
Investors have been taught that index funds and ETFs provide diversification, but that has never been true of Dow-indexed funds (30 stocks). And the S&P and Nasdaq 100, with heavy weightings in a few companies, only give the illusion of broad exposure. The S&P 500 and Nasdaq 100 relative performance during October may cause more investors to consider hand-selecting companies with lower P/Es, lower global exposure, and higher growth potential.
Sectors Within S&P Index
Oil companies regained their lead as they have been a sector detached from other stocks since late 2019. The industrial sector was second and followed by the only other industry above double digits, finance. Most (not all) financial companies benefit from higher interest rates, and those that take deposits (short-term) and lend money (long-term) do best with a steep yield curve.
On the bottom of the list are consumer discretionary companies, which are hurt by the strong dollar and a weakening economy; this sector is followed by communication. Communication is worth a deeper dive as it exemplifies how the weighting of stocks in popular indexes can hurt index returns – some say high-flying, highly weighted stocks are even in a bubble.
Below the chart compares two names in the S&P 500 that are also represented in the communications index. Meta (META) is 17.70% of the index and is down 30% in October. AT&T (T) is 4.70% of the communications index; it returned nearly 20% for the month. The funds weighting methodology that worked to the advantage of index investors, until it didn't, has worked against some index investors.
There is a rivalry of sorts between larger, more accepted cryptocurrencies and gold. Gold wants to regain its centuries-old place as the hard asset that best represents safety, even in the worst conditions, and Bitcoin or Ether, which is looking for respect, as the alternative asset that represents safety.
Crypto has been loosely moving in the same direction as stocks all year. October was no exception, as its price per dollar rose significantly during the month. Gold, despite much worry in the world, continued a slow downtrend.
Gold and Bitcoin Performance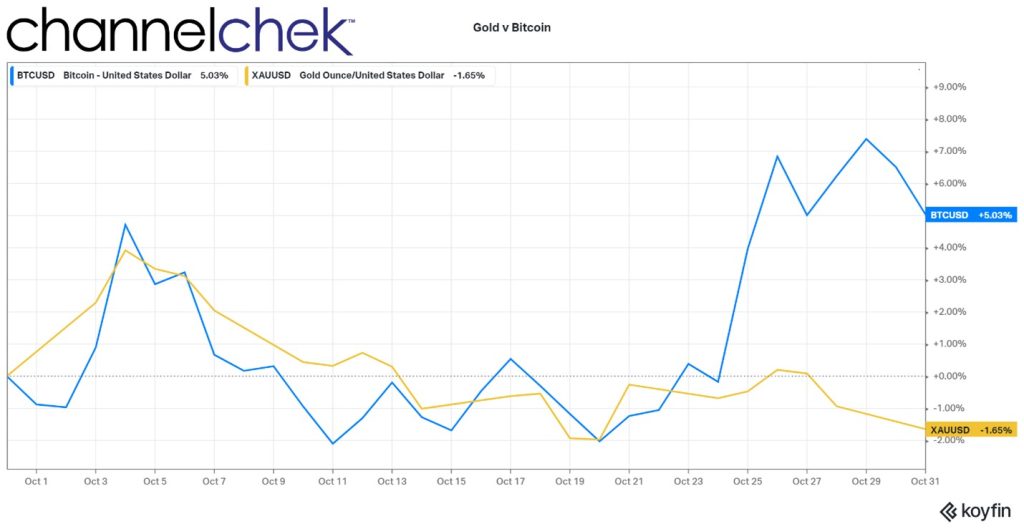 Take Away
Stock market participants that held on finally got a month where it was hard not to come out ahead. The question now is, do you take the gains and sit tight while the fed tightening, election, war, and global recession settle? Or do you look at the current dynamics and allocate where the highest probability of success lies? Maybe small-cap value stocks or oil and gas companies.
There is one thing investors have been warned about repeatedly over the years by well-respected investors, including Michael Burry. There is a risk inherent in indexes now that a few extremely "overpriced" stocks represent a large percentage of index funds.
Investors evaluating smaller, individual stocks have found the data and analysis on Channelchek to be indispensable. Be sure to sign-up for Channelchek at no cost to receive unbiased research on companies that are less talked about, but may have a place in your portfolio mix.
Managing Editor, Channelchek
Sources
https://home.treasury.gov/news/press-releases/jy1062
https://indexarb.com/dividendYieldSorteddj.html