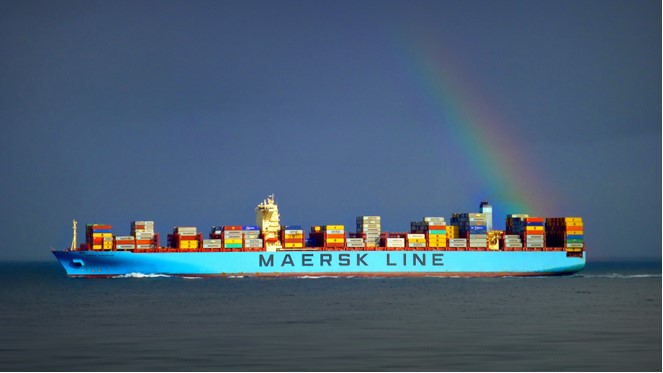 The Supply Chain Part of Inflation Can be Declared Dead, Now What?
New data shows the supply chain is no longer putting meaningful pressure on inflation — will rising prices finally sail off and stay there?
Historically, the Global Supply Chain Pressure Index (GSCPI) is now on the low side. In fact, for the monthly period ending February 28, it's below its 25-year average. What's more, is this is the first time the GSCPI has released a below-average reading of supply chain pressure since August of 2019.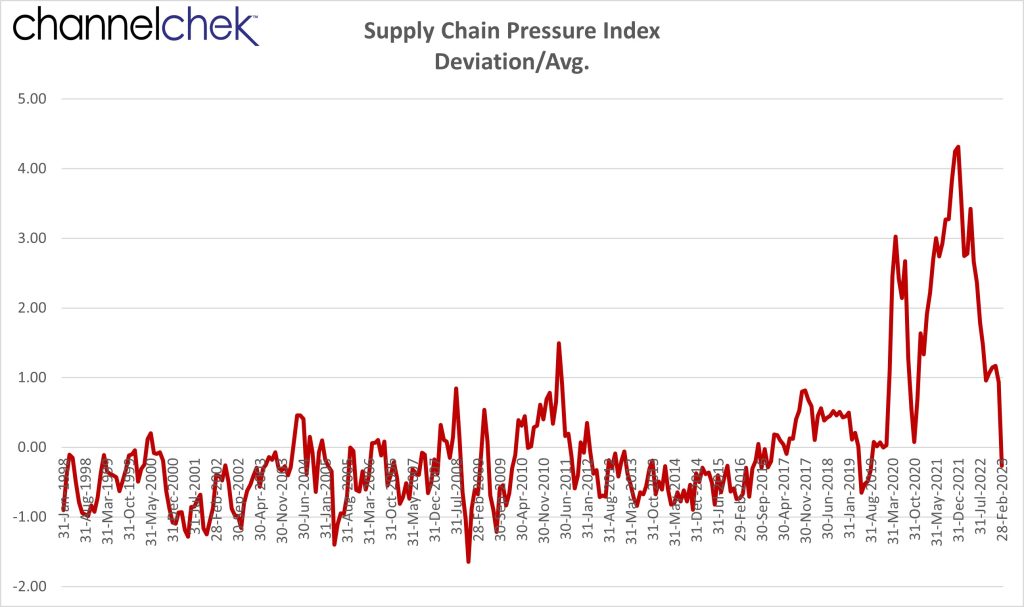 This is significant as the supply-chain issues related to the pandemic, would seem to be transitory and are now no longer the issue. From March 2020 until this more recent report, consumers with easier money available, including stimulus checks, drove demand higher for goods. The suddenness of the onslaught of demand for goods caught the modern world's "just-in-time" inventory management systems off guard. To make that situation much worse, lockdown policies slowed global production, and shipping and transport became entrenched in gridlock due to undermanned loading docks all under some level of new pandemic processes designed for health and safety.
Inflation climbed as the price of shipping was bid up substantially, and shortages of products on shelves caused retailers to lessen demand by hiking prices. Some products, particularly new and used cars, experienced sharp price increases as supply chain-related shortages on automotive components such as computer chips and other parts became difficult to obtain.
Will Inflation Finally Recede?
An 18-month-long period of rampant inflation in goods, including vehicles, electronics, food, and sporting goods, (including bicycles for both indoor and outdoor use became unavailable) began to decompress starting in early 2022. The supply chains had slowly worked through the main causes.
Around this same period in 2022, inflation pressures began to build in services. As price hikes for goods lessened or backtracked, the cost for services, including wages, shot up. This is still fueling inflation today.
Often, the fear or expectation of rising prices drives inflation and vice versa. This may be the reason Fed Chairman Powell used the description "transitory" long past the period that it was obvious that inflation was likely persistent. If the Chair of the US Central Bank had suggested back then that we had a long-term problem, the worst of it may have arrived faster and been worse. Conversely, now that higher-than-target inflation is here, it makes sense for Powell to speak more hawkishly, this helps alter expectations of ongoing high rates of inflation.
With inflation primarily coming from services, the medicine for reducing the demand for human services is lessen demand, or even more difficult, increase the labor force. This is a bitter pill for the economy and creates an issue with the Federal Reserve which has two mandates, one to keep inflation modest and the other to maximize employment.
Take Away
The GSCPI is an indicator that the goods-based part of the economy has normalized. Inflation is still raging in services, which are barely tied to services. The hope is that the Fed can reduce the demand for higher and higher wages or perhaps bring more capable workers into the workforce. Another part of this plan may have nothing to do with tightening credit conditions. Talking publicly about being resolved to squash inflation also has an impact on expectations which will reduce the prices charged for service.
The initial battle, the one that kicked off the price hikes (supply chain), has ended, now we have to see how the rest of the Fed's fight against inflation, both in policy and psychologically, plays out.
Managing Editor, Channelchek
Sources
https://www.house.mi.gov/hfa/PDF/RevenueForecast/NewYorkFed_Global_Supply_Chain_Pressure_Index_Jan2023.pdf