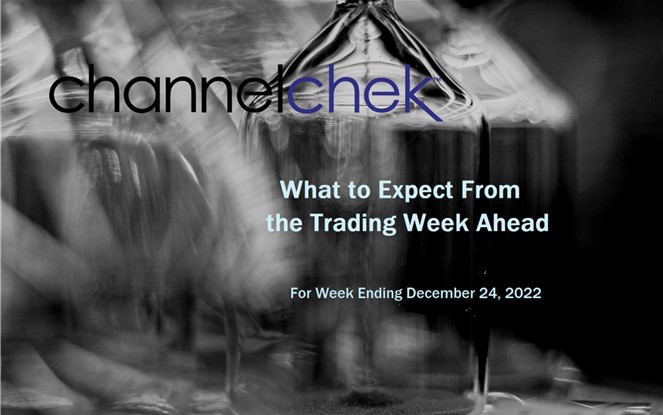 The Holiday Weeks Ahead are Likely to Include Lighter Trading Volumes
End-of-year window dressing occurs when mutual funds and other managed money sell their losing stocks before December 31 to avoid sitting in front of trustees early in the new year and having these stocks still listed as holdings. This often has the effect of concentrating end-of-year selling in stocks that are already the worst performers over the ending year. These same stocks are then favored early in the new year. Keep in mind some of this money may temporarily move to the fixed-income markets. Volume for the next two holiday weeks is typically lighter than usual.
Speaking of bad-performing stocks, FedEx reports earnings on Tuesday, December 20 (4:30). If you recall, they last reported on September 15 and missed expected earnings. That earnings call caused the stock to move from $204 to $161 during the following trading session. FedEx earnings will be of particular interest for this reason and because it's an early indicator of this holiday shopping season.
It's a light week for economic numbers; those that have the strongest possibility of moving markets occur on Wednesday's Consumer Confidence and Friday's Durable Goods data. Friday is a regular trading day for the stock exchanges, the bond markets enjoy an early 2 PM close.
Monday 12/19
• 10:00 AM ET, the Housing Market Index is expected to show a 34, according to Econoday's consensus numbers. This would halt the downward spiral of this measure. Last month the reading was 33.
Tuesday 12/20
• 8:30 AM ET, Housing Starts and Permits are expected to be 1.4 million from the previous 1.425 million. Residential construction has been slowing and slowing significantly.
Wednesday 12/21
• 8:30 AM ET, The third-quarter current account deficit is expected to narrow to $225.0 versus the $251.1 billion reported in the second quarter. The current account is a quarterly measure of the U.S. international balance in goods and services trade as well as unilateral transfers.
• 10:00 AM ET, Consumer Confidence is expected to edge higher to a marginally less depressed 101.0 versus November's 100.2. Trends in consumer attitudes and spending can be one of the most impactful influences on the stock market. This is because strong economic growth translates to healthy corporate profits and higher stock prices.
Thursday 12/22
• 8:30 AM ET, Gross Domestic Product (GDP) third estimate for the third quarter is not expected to change at all from the previous estimate of 2.9%. This is the final read from the third quarter, it indicates we were not in a recession and instead had better growth than the first two quarters.
Friday 12/23
• 8:30 AM ET, Forecasters expect Durable Goods Orders to fall 0.7 percent in November following a 1.1 percent rise in October. This is a true leading indicator as orders for durable goods show how active factories will be in the months to come as manufacturers fill those orders. The data not only provide insight to demand items such as refrigerators and cars but also business investments such as industrial machinery, electrical machinery, and computers. So it may also indicate how confident the industry is for a period into the future.
What Else
Were you able to watch the equity analysts from Noble Capital Markets discuss stocks within their areas of expertise on Wall Street Wish List aired last Thursday through Channelchek? A replay may become available this week for those that wish to rewatch or those that prefer to digest all the information in smaller bites. Those signed up for emails from Channelchek will be given a heads-up when this replay happens.
Happy Hanukkah, Merry Christmas, and peace to all from the entire content team at Channelchek!
Managing Editor, Channelchek