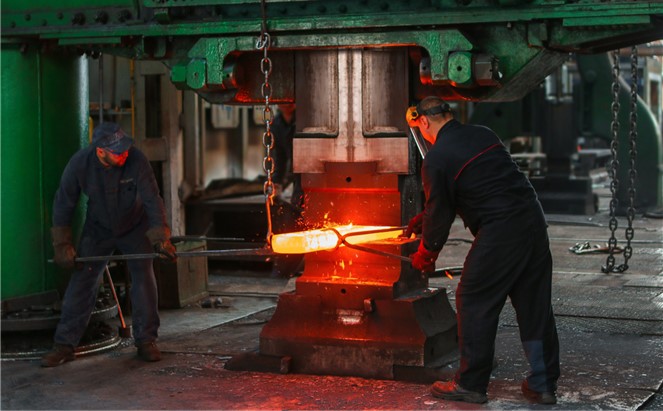 Natural Gas Intensive Manufacturing's Latest Move from Europe to the U.S. is a "No-Brainer"
Is Europe moving manufacturing jobs to the U.S.?
As Russia's Nord Stream 1 pipeline gas shipments have been curtailed by 89%, and European countries have agreed to sweeping cuts in natural gas consumption, some manufacturing in Europe has had to make difficult decisions. For them to stay in business or to protect profitability, moving to where the supply chain flows more freely may be a choice forced on companies.
The industries most impacted by unpredictable supply and skyrocketing gas prices are those that make steel, fertilizer, chemicals, and other feedstocks. Many of these same industries have been (unintentionally) incentivized to relocate operations to the U.S. by Washington's growing menu of incentives for manufacturing and green energy. This government support, if their operations comply with certain standards, and the need for stable energy availability has already caused some businesses to cross over to the U.S.
Some economists have suggested that this could bring a new era of deindustrialization to Europe, and industrial jobs to the U.S.
The Decision to Make the Move
This month Ahmed El-Hoshy, chief executive of Amsterdam-based chemical firm OCI NV announced an expansion of an ammonia plant in Texas. "It's a no-brainer to go and do that in the United States," El-Hoshy told the Wall Street Journal.
Luxembourg-based ArcelorMittal SA, said this month it would cut production at two German plants, then reported better-than-expected performance by an investment earlier this year in a Texas facility. ArcelorMittal makes hot briquetted iron, a raw material for steel production. In their July earnings call, Chief Executive Aditya Mittal attributed the facility's value in part to being in a "region that offers highly competitive energy and, ultimately, competitive hydrogen." The facility that Mr. Mittal moved operations to has plenty of room for growth, Mr. Mittal explained to shareholders they own 100% of expansion rights.
Pandora A/S the Danish Jewelry maker, and Volkswagen AG announced U.S. expansions earlier in 2022. Even U.S. headquartered companies are making changes. Last week, The Wall Street Journal reported Tesla is pausing its plans to make battery cells in Germany as it reviews qualifying for tax credits under a new act signed by President Biden in August.
"We are increasing our investments [in the U.S.] also in order to stay with all of our partners who are investing," said Stefan Borgas, chief executive of RHI Magnesita NV. The company, which makes materials used by factories such as steelmakers that must withstand intense heat, is spending $8 million on its European plants so that certain processes run on alternative fuel, such as coal or oil meet European guidelines. Borgas has said that they are also very positive about steel demand in the U.S., where incentives have helped pave the way for green-energy changes. Manufacturers like RHI Magnesita see hydrogen as the key to replacing fossil fuels and reducing emissions in plants. Promised spending on projects by Washington is expected to boost the production of hydrogen and eventually lower its price.
Many companies remain cautious about changing their strategies because of the cost, difficulty, and time involved in building projects such as smelters for aluminum production. But they are also realistic about the potential for natural gas to never again flow through the Nord Stream pipeline at levels previously experienced. Those that have decided to relocate are likely not moving operations back, it just wouldn't be practical. This would lead to a permanent increase in North America for manufacturing requiring energy from natural gas and blue hydrogen produced by natural gas.
Take Away
Industries that rely heavily on natural gas or other products derived from natural gas are having a tough time in Europe. Some have moved operations to North America, and many more are considering the move. Helping to make the decision to locate manufacturing operations in the U.S. comes from the recently signed Inflation Reduction Act, which incentivizes building greener processes. These incentives would hep reduce the cost of building a new plant or factory in the U.S.
Managing Editor, Channelchek
Sources:
https://www.wsj.com/articles/high-natural-gas-prices-push-european-manufacturers-to-shift-to-the-u-s-11663707594?mod=hp_lead_pos3
https://www.wsj.com/articles/europe-checks-its-thermostats-as-russia-crimps-natural-gas-supplies-11658827804?mod=series_europeenergyshortage
https://www.pbs.org/newshour/world/europe-is-facing-an-energy-crisis-as-russia-cuts-gas-heres-why#:~:text=DID%20RUSSIA%20CUT%20OFF%20GAS,a%20pillar%20of%20the%20economy.
https://corporate.exxonmobil.com/climate-solutions/hydrogen#:~:text=What%20is%20blue%20hydrogen%3F,that%20produces%20no%20CO2.