Companies by Sector
More than 6000 listed
Communication Services
Telecommunication Services
Consumer Cyclical
Advertising & Marketing Services
Furnishings, Fixtures & Appliances
Homebuilding & Construction
Manufacturing - Apparel & Accessories
Manufacturing - Apparel & Furniture
Retail - Apparel & Specialty
Consumer Defensive
Beverages - Non-Alcoholic
Financial Services
Diversified Financial Services
Healthcare
Healthcare Providers & Services
Medical Devices & Instruments
Medical Diagnostics & Research
Medical Instruments & Equipment
Industrials
Farm & Heavy Construction Machinery
Transportation & Logistics
Utilities
Utilities - Independent Power Producers

Image credit: Michael Steinberg (Pexels)
How Does Gold Compare with Junior Gold Mining Stocks?
Gold has been on the move for over a year. Not always up, but never dead in the water. Long-term investors (10+ years) look for long-term reliable price appreciation of their assets. For this objective, gold in all its forms has treated them well. Specifically for traders (3 months or less), high volatility equates to the ability to generate more profits in a shorter time period. There are a number of ways to gain gold exposure for either investors or those more inclined to trade. They can physically purchase the metal, buy funds (ETF and mutual) that invest in gold, futures market, or own gold mining companies (full-fledged operations or junior miners). I pay attention to a number of the junior miners with information available here on Channelchek, so I thought it would be useful to compare a Gold ETF (GLD) that tracks the physical price and, as a proxy for miners, a junior gold mining ETF(GDXJ).
With talk of inflation and a weaker $US Dollar, there are expectations that gold's pace of upward movement may increase. Below, in three charts is what I discovered about gold compared with junior gold mining stocks for both investors and traders.
Gold Versus Junior Gold Mining Stocks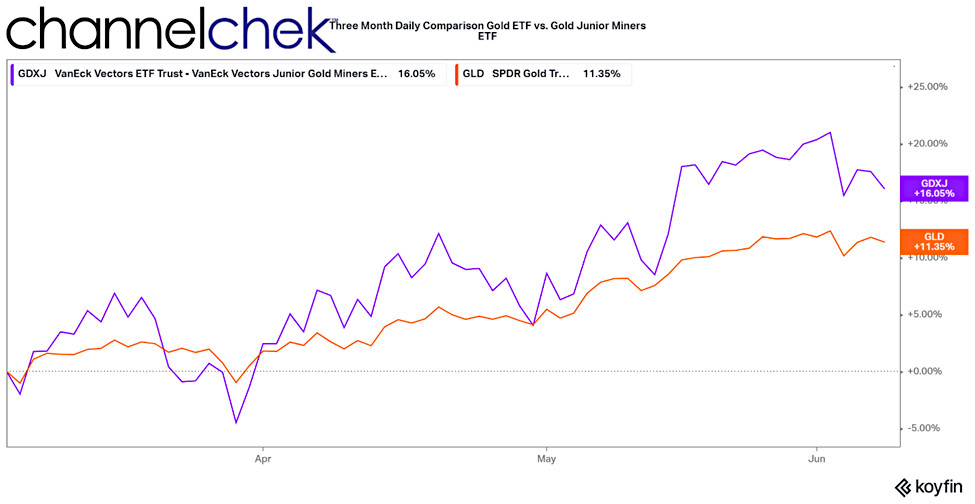 Above is a three-month daily comparison of gold (orange) against junior gold miners (purple). The swings in the mining stocks are much more abrupt; it has been faster on the upside and more pronounced on the downside as well. The overall rise in gold prices during this whole period has been up. Based on the ETF, gold has risen 11.35%. The more volatile junior gold mining ETF is up by almost an additional 5% for the three-month period. The greater volatility in an upward market during this period has paid investors in junior miners better.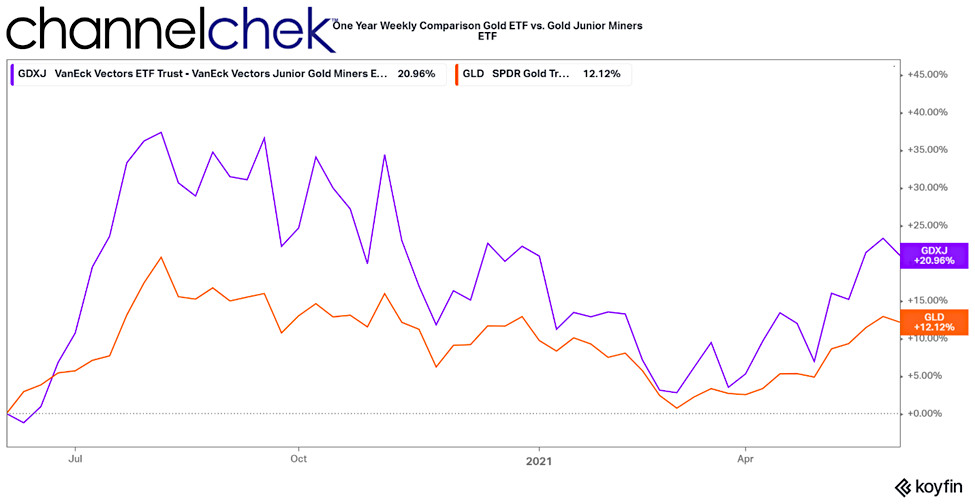 Looking out over a year where gold has had moves in both directions, this weekly chart shows that miners have been more volatile over this period as well. Those that had long positions during downtrends felt more of a negative impact; those long during uptrends enjoyed greater gains. While gold was up for the year, using this ETF as a proxy for junior mining stocks, miners outperformed by a wide margin.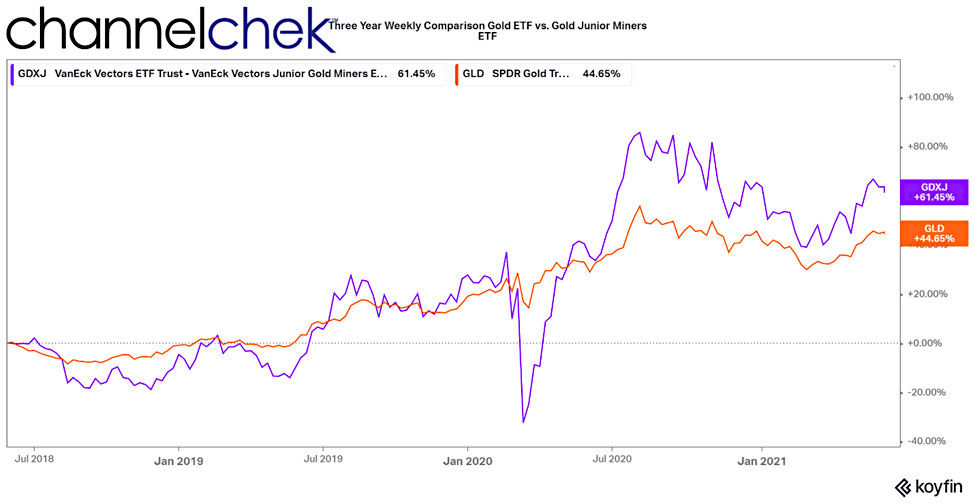 The two charts above included a very strange period in market history. So I thought I'd take a look back three years to confirm the behavior. Once again (and I also did go back as far as 2008) during all the periods I looked at, miners rose faster when gold prices rose and sunk faster when they went down. During 2020, they sunk particularly quickly as many mining operations went on hiatus. The performance over three years was significantly in favor of those producing the commodity rather than the commodity itself.
More Thoughts
Whether you're a long-term investor or a trader trying to capitalize on swings (up or down) it seems that the junior miners may yield better results if the direction is called correctly. As mentioned earlier, there is data, research and analysis on a number of Junior Gold Miners on Channelchek, here is a sampling to get started:
Great Bear Resources Ltd. (GTBAF) is a mineral exploration company in Canada that primarily explores for gold. Noble Capital Markets provides full research coverage on the company, those reports are available on Channelchek. On Wednesday, June 9th a virtual roadshow will be held by Channelchek where attendees can listen to management and ask questions. This will be a worthwhile presentation for those interested to learn more about Great Bear.
Allegiant Gold Ltd. (AUXXF) explores and evaluates resource properties in the United States. Its flagship project is the company-owned Eastside Gold project covering an area of 72 square kilometers located in Tonopah, Nevada. Current research and price targets can be found on Channelchek. To view Allegiant's most recent roadshow video, go to this link.
Aurania Resources, Ltd. (AUIAF) is a Canada-based junior mining exploration company engaged in the identification, evaluation, acquisition, and exploration of mineral property interests, with a focus on precious metals and copper. Its flagship asset, The Lost Cities-Cutucu Project, is in southeastern Ecuador in the Province of Morona-Santiago. Current research and price targets can be found on Channelchek. To view Allegiant's most recent roadshow video, go to this link.
Golden Predator Mining (NTGSF) is a Canada-based gold exploration and development company that is advancing its flagship project, the Brewery Creek Gold Mine, located in Canada's Yukon territory. Current research and price targets can be found on Channelchek. A recent C-Suite interview with Noble analyst Mark Reichmann is available at this link.
Paul Hoffman
Managing Editor, Channelchek
Suggested Reading:
Minerals Industry Report -Metals & Mining Fourth Quarter 2020 Review and Outlook
Virtual Road Show Series - Wednesday June 9 @ 1:00pm EDT

Join Great Bear Resources President and CEO Chris Taylor for this exclusive corporate presentation, followed by a Q & A session moderated by Mark Reichman, Noble's senior research analyst, featuring questions taken from the audience. Registration is free and open to all investors, at any level.

Stay up to date. Follow us:
Company
Ticker
Price
Previous
Mkt Cap
Volume
52wk Range
Great Panther Mining Limited (Canada)
GPL (AMERA)
$0.25
$112.19M
0
$0.16 - $0.90
Fundamental Analysis
Great Bear Resources Ltd - New
GTBAF (OTCQX)
$22.43
$1.30B
0
$10.08 - $24.02
Fundamental Analysis
Golden Predator Mining Corp
NTGSF (OTCQX)
$0.13
$21.87M
0
$0.09 - $0.21
Fundamental Analysis
Coeur Mining Inc.
CDE (NYSE)
$4.49
$1.25B
0
$4.12 - $11.14
Fundamental Analysis
Aurania Resources
AUIAF (OTCQB)
$0.48
$25.71M
0
$0.48 - $2.82
Fundamental Analysis
Allegiant Gold Ltd.
AUAU:CA (CDX)
$0.47
$47.65M
0
$0.23 - $0.56
Fundamental Analysis
Allegiant Gold Ltd
AUXXF (OTCQX)
$0.39
$40.01M
0
$0.18 - $0.46
Fundamental Analysis
Advanced Market Data
()
Detailed Quote
Charts
Statistics
Financials
Historical Quotes
Insider Activity
Key Ratios