Companies by Sector
More than 6000 listed
Communication Services
Telecommunication Services
Consumer Cyclical
Advertising & Marketing Services
Furnishings, Fixtures & Appliances
Homebuilding & Construction
Manufacturing - Apparel & Accessories
Manufacturing - Apparel & Furniture
Retail - Apparel & Specialty
Consumer Defensive
Beverages - Non-Alcoholic
Financial Services
Diversified Financial Services
Healthcare
Healthcare Providers & Services
Medical Devices & Instruments
Medical Diagnostics & Research
Medical Instruments & Equipment
Industrials
Farm & Heavy Construction Machinery
Transportation & Logistics
Utilities
Utilities - Independent Power Producers


Image credit: Steve Jurvetson (Flickr)
Elon Musk Does Not Want Lithium Production Levels to Stall the Growth of Tesla
Is the pace of lithium extraction going to continue to be a drag on EV manufacturing? Elon Musk, CEO of Tesla (TSLA), has no intention of allowing lithium costs or availability to depress his EV company's growth. In one of his more serious tweets, Musk mentions the challenge of securing supply for Lithium-ion batteries and hints at a possible solution for the company he founded.
Musk was commenting on a Tweet from World of Statistics, which showed the price of lithium over the past ten years has risen from $4,450/tonne to $78,032/tonne today. Musk's tweet offered a possible solution for Tesla to get ahead of the supply issue (a tonne, or metric Ton, is equal to 1000kg, about 2,205 pounds).
Musk's Lithium Comment
In his tweet he mentions how "insane" the price of lithium has become. He also points out that the world has enough of the mineral, but extracting and refining hasn't been able to keep up with growing needs. The CEO even suggested that Tesla might get into the mining business to help resolve shortages of the critical element used in li-ion batteries.

If Tesla also mined and refined needed raw materials to make sure production growth doesn't stall, it would be unique in car company history. And, from an investor's standpoint, it opens questions. We recently experienced how the chip shortage created havoc for car companies and buyers. One missing ingredient can prevent manufacturing at the ideal pace to meet consumer demand. Will locking up long-term lithium supply become standard? Will Tesla and other auto companies integrate supplying themselves with materials become part of who survives in the EV era and who doesn't? What does this mean for li-ion-related stocks?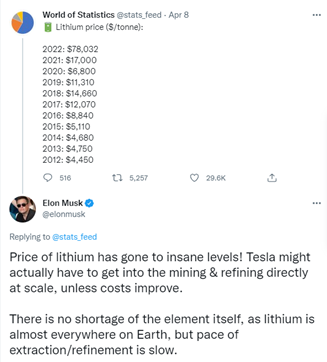 "Insane Levels"
Benchmark lithium prices are at about $78,000/tonne; this is an 80% increase from January 1st. Barrons tracks the price for a basket of lithium battery elements and has reported that it is up 60% on the year (April 2022). This increase adds on average another $2,000 to the price of an EV. Most materials to manufacture batteries (copper, cobalt, nickel, lithium) are secured on a contract basis. This helps smooth unexected changes allowing companies to better predict future costs.
Looking Forward
In a later tweet Musk wrote, "we have some cool ideas for sustainable lithium extraction [and] refinement." Which will be worth watching. In the interim, lithium mining stocks are up 20-30% this year. Many are playing catch-up and and building their capacity to meet EV demand growth. The miners are behind the growth curve, but that isn't because of a shortage of the mineral.
Managing Editor, Channelchek
Suggested Reading
Sources
https://www.barrons.com/articles/tesla-evs-inflation-metals-nickel-prices-51646744059?mod=article_inline
https://www.teslarati.com/tesla-lithium-mining/
Stay up to date. Follow us:
Company
Ticker
Price
Previous
Mkt Cap
Volume
52wk Range
Palladium One Mining Inc
NKORF (OTO)
$0.19
$49.90M
0
$0.13 - $0.31
Fundamental Analysis
Kandi Technologies Group Inc.
KNDI (NGS)
$2.77
$211.23M
0
$2.52 - $6.68
Fundamental Analysis
Comstock Mining Inc.
LODE (AMERA)
$1.53
$103.59M
0
$1.24 - $4.97
Fundamental Analysis
Lithium Americas Corp.
LAC (NYSE)
$31.08
$4.17B
0
$11.84 - $41.56
American Lithium
LIACF (OTCQB)
$3.02
$612.56M
0
$1.20 - $5.00
Advanced Market Data
()
Detailed Quote
Charts
Statistics
Financials
Historical Quotes
Insider Activity
Key Ratios