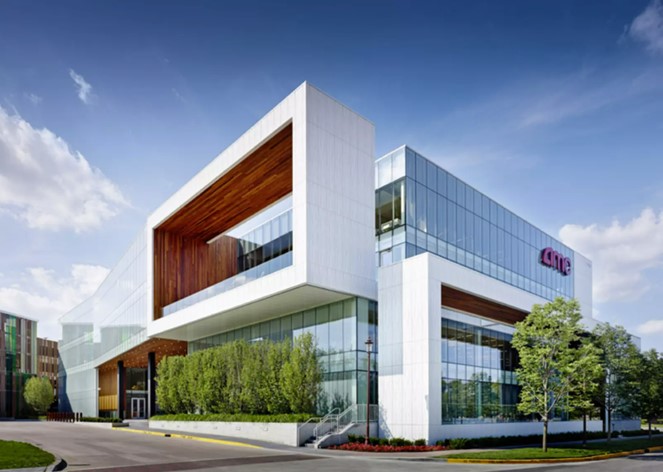 AMC Diversified into Mining Last Winter – The Prospects Look Good
They should make a movie about the CEO of AMC Theaters, Adam Aron. But they ought to wait because it seems his story and that of AMC Theaters ($AMC) have a few more plot twists left. Yesterday AMC Shareholders struck gold. That is, the 22% of a gold mining operation in Nevada that AMC purchased in March returned extremely positive results as to the amount and quality of the yellow metal found in recent tests.
Let's Rewind
In mid-March of this year AMC Theaters, coupled with Natural Resources Guru Eric Sprott, had taken a large stake in a gold and silver mining company. The company, Hycroft Mining Holdings ($HYMC), has a 71,000-acre gold mine in Northern Nevada. AMC's stake was 22%. It invested $27.9 million in cash in Hycroft in exchange for 23.4 million warrant units, with each unit consisting of one common share of Hycroft and one common share purchase warrant. The units were priced at $1.193 a share, while each purchase warrant was priced at about $1.07 and carried a five-year term. HYMC had been trading in the $0.30 to $0.33 range when the deal was executed, as of September 14, the mining company was trading for $0.84 per share. AMC also was granted the right to appoint someone to Hycroft's board.
Eric Sprott's investment was made through a holding company for Sprott, not the alternative investment manager owned by Mr. Sprott, Sprott Inc. The holding company will make an equal investment in Hycroft with the same terms. Together, AMC and Sprott invested $56 million in the mining company.
So Far, So Good
The large stake taken by a completely unrelated business was ridiculed by many. One Seeking Alpha author called it a "Horror Story." But the run-up in AMC's stock from the short-squeeze in 2021 and its foresight to set aside capital for growth and diversification may have been smart. As of yesterday, the 22% stake in the uncorrelated business (Leisure vs Natural Resources) makes the CEO presiding over the popular meme-stock look like a hero.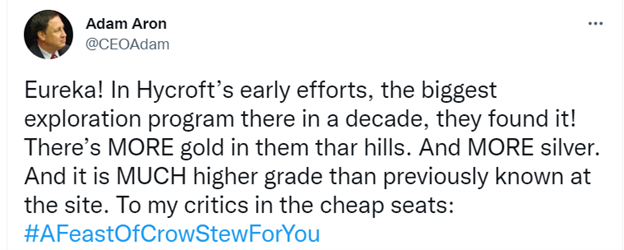 According to a press release from Hycroft Mining, initial drill results from the test they conducted in different areas of the the property more than confirmed their expectations.
Alex Davidson, Vice President, Exploration at Hycroft commented, "These initial drill results confirm the higher-grade opportunities identified in the 2021 drill program. While we have only just begun investigating the planned targets of our 2022-23 drill program, these results are very encouraging and further confirm the importance of additional drilling to explore the untapped potential of the Hycroft deposit. Importantly, we are observing the high-grade zones are more continuous than previously interpreted in addition to seeing silver and gold grades significantly higher than the average grade at the Hycroft deposit."
Adam Aron tweeted dramatically yesterday after the results were made public, exclaiming, "Eureka, In Hycroft's early efforts, the biggest exploration program there in a decade, they found it! There's MORE gold in them thar hills. And MORE silver. And it's MUCH higher grade than previously known at the site. To my critics in the cheap seats: #AFeast of CrowStewForYou.
Take Away
The AMC story, so far this decade, is full of so many plot twists and unexpected events that it confounds even the most veteran market watchers.
High-level research and analysis for many natural resource producers is regularly posted on Channelchek, along with information on stocks within the leisure sector. Watch for continued updates on this story by signing up for Channelchek emails.
Paul Hoffman Managing Editor, Channelchek
Sources
https://twitter.com/CEOAdam/status/1569665358130475008
https://hycroftmining.com/_resources/news/Sept-13-2022-Initial-Drill-Results.pdf
https://seekingalpha.com/article/4499787-amc-stock-investing-hycroft-mining-horror-movie?