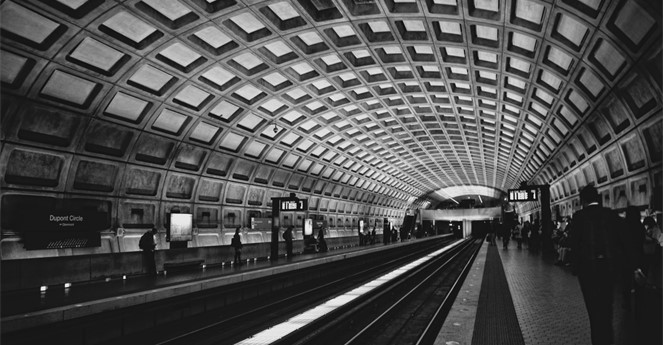 Investments of Washington's Powerful Pieced Together
Top federal employees in the U.S. are required to disclose their trading activities. The disclosure must be made within 30 days of executing a transaction. And annually by May 15 of the following year. Over 2500 government officials report transactions each year, often trading in companies that lobby their department for the company's financial benefit. Where are these disclosures? The government doesn't maintain a public database of mandatory disclosures. Fortunately, the pieces can be made available and, although a huge undertaking, can be pieced together. The Wall Street Journal did this when they performed their Capital Assets Investigation by analyzing 12,000 federal officials' financial disclosures. Some may not find the outcome comforting.
How the Investigation Was Conducted
The lack of a central database made this investigation a huge undertaking. The Journal pulled information on about 850,000 financial assets and more than 315,000 transactions of nearly 12,000 officials at 50 federal agencies filed during the five-year period between 2016 and 2021.
The financial publisher compared this data to lobbying reports filed by companies to identify officials who invested in firms seeking treatment that would benefit the companies represented by those agencies (including immediate family members). Journal analysts went as far as cross-referencing reported stock trades with announcements of contracts and regulatory, enforcement, and legal actions.
What Were the Findings
The investigation was immense and tedious, however, it didn't take much digging to discover transactions and situations that would make the average taxpayer to raise an eyebrow. As a sample, the Food and Drug Administration (FDA) let an official own dozens of food and drug stocks on its no-buy list – a top official at the Environmental Protection Agency (EPA) reported purchases of oil and gas stocks – a Defense Department (DoD) official bought stock in a defense company several times before the company won new business from the Pentagon.
Drilling a little deeper, the Wall Street Journal uncovered and pieced together thousands of questionable investment situations from a multitude of decision-makers all on the taxpayer payroll.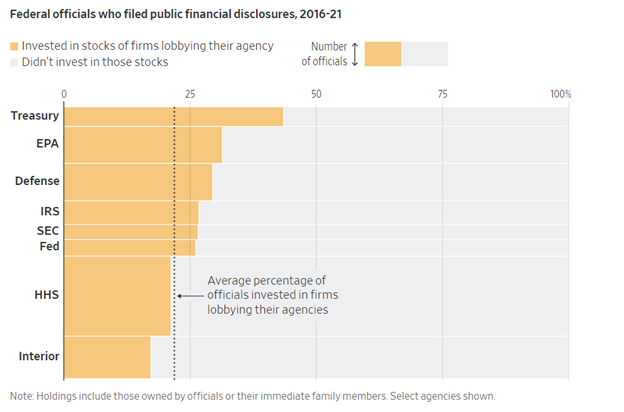 • While the U.S. government was escalating oversight and review of big tech companies, more than 1,800 federal official's disclosed owning or trading at least one of four big tech stocks: Meta Platforms (META), Alphabet (GOOG),  Apple (AAPL), and Amazon (AMZN).
• Over 60 officials at five agencies, including the Federal Trade Commission (FTC) and the Justice Department, reported trading stock in companies shortly before their departments announced enforcement actions, such as charges and settlements, against those companies.
• High-ranking public servants in the Office of the Secretary at the Department of Defense reported together owning between $1.2 million and $3.4 million of stock in aerospace and defense companies during each of the five years investigated. Some owned stock in Chinese companies during the period the U.S. was deciding if it should blacklist these companies.
• Over 200 senior EPA officials, nearly one in three, disclosed taking positions in companies that were lobbying the agency. Exposure to these companies by EPA employees and their family members totaled between $400,000 and up to  $2 million in shares of oil and gas companies each year between the years investigated.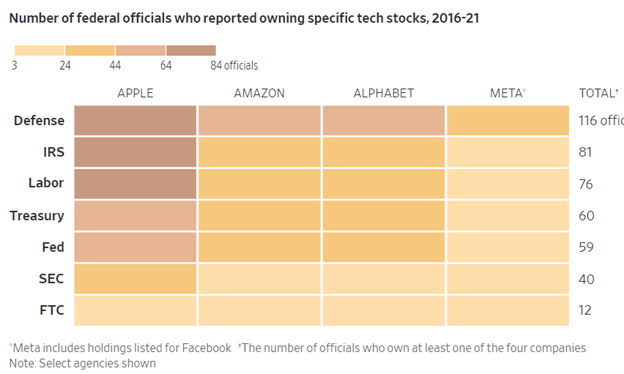 When financial conflicts clearly were at odds with rules of the various agencies, the rules were often waived for the situation. In most instances, according to the Journal, ethics officials certified that the employees had complied with the rules, which contain several exemptions that provide for situations where officials can hold stock that conflicts with their agency's function.
The officials, many of which are household names and faces, can influence and financially impact company's while at the same time making decisions that come to play in the day-to-day lives of citizens. These include public health and food safety, diplomatic relations, weapons systems, medical care, and regulating trade, to name a few. Even in those cases where a rule has not been explicitly violated, or has been waived, the actions violate the spirit behind rules intended to elevate or maintain public trust in government.
Official's Transactions
There is a running joke that Speaker of the House Nancy Pelosi, or more accurately, her husband Paul Pelosi's investment picks and timing are so good that he must use a crystal ball. Lawmakers like Pelosi have gotten much more public attention. And activities at the Federal Reserve have recently caused resignations over accusations. But most agencies fly under the radar. The investigation by the Journal is expected to result in a number of WSJ special reports. Each time exposing another area that they want to bring to the public eye.
Congress had long been criticized for not prohibiting lawmakers from working on matters in which they have a financial interest. The rules were tightened in 2012 by the Stop Trading on Congressional Knowledge (STOCK) Act, passed following a series of Journal articles on congressional trading abuses.
Investigative journalism or watchdog reporting is part of what helps reshape rules that lead to forced integrity and increased trust. American's should feel confident that approvals, decisions, and all undertakings by those hired to serve the citizenry, put the interest of those funding their paychecks first.
Managing Editor, Channelchek
Sources
https://www.justice.gov/jmd/financial-disclosure
https://www.wsj.com/articles/how-wsj-analyzed-12-000-federal-officials-financial-disclosures-for-its-capital-assets-investigation-11665491120?mod=article_inline
https://www.wsj.com/articles/government-officials-invest-in-companies-their-agencies-oversee-11665489653?mod=hp_lead_pos7