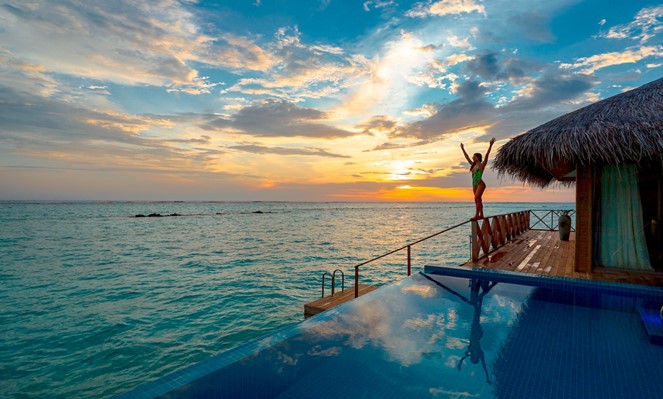 Travelers Gonna Travel!– Travel & Leisure Sector May Ignore the Recession
Economic activity in the U.S. contracted during the first half of the year. At the same time, inflation is running at 40-year highs. Investors looking to keep their money productive with reduced risk have focused on consumer staples and companies providing necessary services where demand isn't impacted much by price. This is what experienced investors do when the economy falters. But this economy seems a bit different than previous periods of shrinking economic activity and rising prices. Jobs are still plentiful, and one industry, with a lot of pent-up demand leftover from the pandemic, is gearing up to exceed all expectations. That sector is leisure. We take a look below at the potential strength in the industry, where opportunities may be found, and how you could reduce timing risk with stocks on your shopping list.
Current State
More than half of Americans see leisure travel as a budget priority right now; in fact, 62% of Americans took at least one overnight trip between mid-May and mid-August. This is according to the latest The State of the American Traveler report compiled by Destination Analysis. Consumers continue to prioritize experiences over alternatives in their budget. As the U.S. Moves out of Fall and into the colder months, it appears the trend will continue. Chuck Artillio is co-owner of SinglesSki.com, winter-oriented travel, and leisure company. He told Channelchek, "Last year at this time, business was robust, yet bookings, as we stand now for the coming season, are already up over 100%." Artillio added, "I've never seen anything like this before."
The Destination Analysis survey also expects industrywide strength in demand for travel and leisure services in the last quarter of the year. The results show Fall and early Winter trip expectations are high. Over a quarter of Americans expect to take a trip in either October (26.6%), November (24.8%) or December (28.4%). This is up from June when 20% said they expected to take a trip in the fourth quarter of 2022.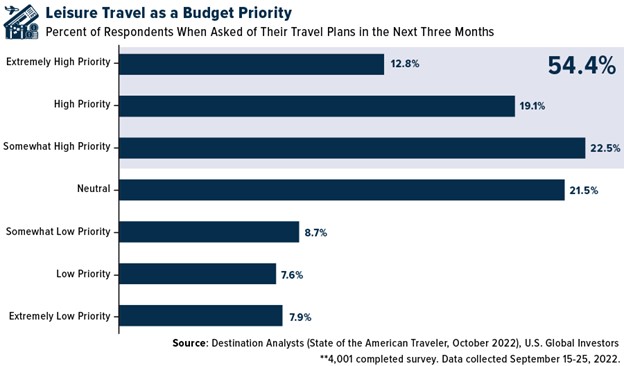 Source: US Global Investors
The survey indicates that typical holiday travel includes visiting friends & family as the top driver for late year. However, second on the list of purposes for travel is the desire to return to a destination, followed by general atmosphere, and food & cuisine.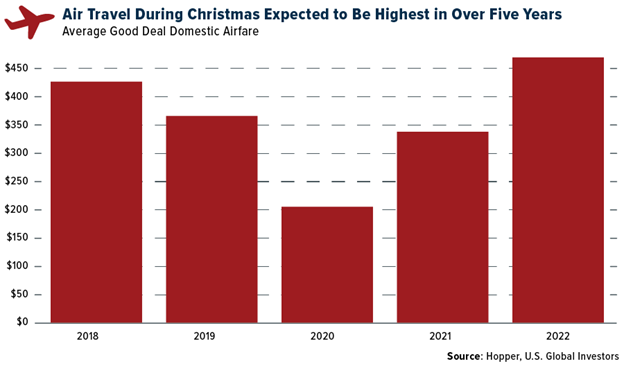 The survey produced hard data that showed Americans continue to prioritize having fun and relaxation when traveling. This, of course, can mean different things to different people. The majority said being in a quiet/peaceful location (82.5%) followed by beach time (69.7%), chilling-out poolside (67.3%), enjoying culinary experiences (65.6%), and luxury hotel experiences (60.4%).
Do Expectations Provide Opportunities?
An industry research report published this week titled, Entertainment & Leisure Industry Report: Ideas For Your Investing Shopping List, contains some ideas for interested investors. The authors of the leisure industry report include Michael Kupinski, Director of Research at Noble Capital Markets. Overall, Kupinski and Noble's research associates find the current state of the economy as one that provides a "discount rack" of stocks that can weather a further downturn and may be the first to rise as the recovery seems imminent. He provides information and careful analysis on some stocks that he believes have favorable attributes, go here for in-depth details of these companies.
The analysts suggest investors develop a shopping list and concede that recognizing a turning point in market direction is the "hard part." But they have suggestions for that as well. These include nibbling at the targets on your list to scale in over a period of time. This averaging in to stocks on your shopping list will lower the risk of picking one day to pile in, which may turn out to be bad timing.
Take Away
Down markets bring opportunity. They always have, and there is no reason to believe this time will be different. Finding sectors with promise, as the travel and leisure sector is now showing, then diving into research to select those in the sector with the most promise, followed by a decision to average in to the market, is one recognized way to put yourself in a position to benefit from the current "discount rack" that many stocks now seem to be on.
Managing Editor, Channelchek