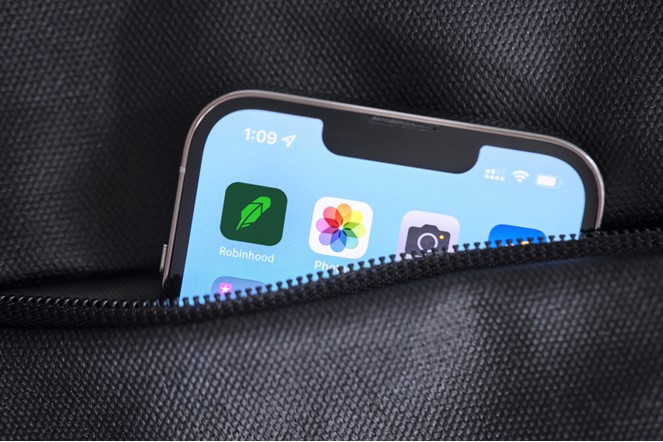 The Percentage Volume of Retail Transactions Has Surpassed 2020's Level
Retail investors were a strong market force in 2021, and after a hiatus through much of 2022, they may be setting the tone in 2023. As a whole, the investors that fall into this category are watching signs that the US Federal Reserve and other central banks may be near the end of their rate hikes. This, coupled with last year's sell-off, was taken as a sign to selectively jump back into positions. The positions they have been putting on have been moving the needle in the "risk-on" category; this has sent many of last year's losers up double digits.
Data from JP Morgan demonstrate retail transactions have recently surpassed the market volume peak reached in the Fall of 2020. The more volume as a percentage of trades, the more influence over price movements any investment group has.
JPMorgan Data Shows Retail's Market Percentage Has Quickly Grown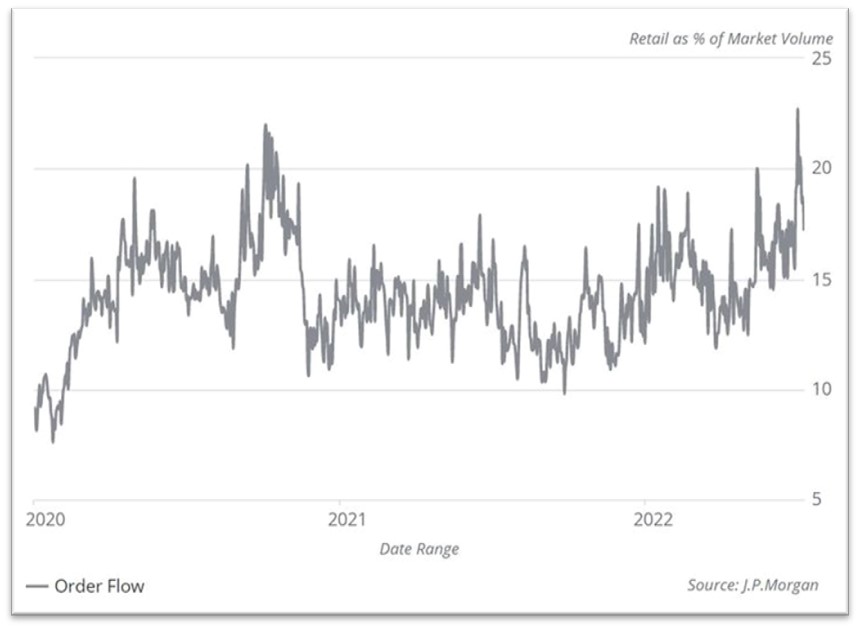 What Prices Have They Impacted?
During the last week in January, retail market orders as a percent of market value reached 23%, according to JPMorgan. Comparatively, it got to 22% a few times when GameStop (GME) was confounding institutional money while surging in valuation. As with the increase in retail volume during 2020, the renewed interest in committing to trades can have an outsized impact on sector movements and those of favorite stocks.
During the pandemic lockdown period, many self-directed investors chose to follow groups such as r/WallStreetBets on Reddit and forums on other chatrooms and platforms. One strategy that worked was directed at hedge fund short positions. It involved massive buying of stocks that were heavily shorted. The goal was to force the shorts to cover, which would produce buying and a higher stock price. This was effective enough to have caused significant problems with both institutional investors and the brokerage community settling the trades.
As January came to a close Many of the same risk trades, have gotten attention. AMC Theatres (AMC) is up 70% YTD. Cathie Wood's ARKK fund, which invests in speculative disruptive companies, has risen nearly 46%. Also in the fund category is an ETF that invests in so-called meme stocks (MEME), this is up 41%.
Bitcoin (BTC.X), which had been presumed on its deathbed toward the end of last year, is up over 42% as it continues to track technology.  
Will They Again Score?
"Mark my words, it's going to end in tears," was a popular line amongst market pundits back in 2020-2021. The Great Unwashed, the Meme Stock Investors, the market participants Jim Kramer called Robin Hoodies don't have a long track record. But the track record they do have is worth noting.
According to JP Morgan, as of the first week in February, Tesla (TSLA) was the most sold stock by retail investors. Others that have been sold include those categorized as green and infrastructure stocks tied to EVs and 5G broadband.
The most purchased were Amazon (AMZN) and APPLE (AAPL). The hashtag #MOASS, or Mother of All Short Squeezes, has been trending most days on Twitter. The stock tied to the posts is AMC (AMC, APE), as there has been ongoing news surrounding this classic meme stock. One meme stock that has not attracted that much attention is Bed Bath and Beyond (BBBY). The company, which is trading at $3.20 after having been at $22.80 less than a year ago, is on life support, and closing dozens of stores amongst talk of bankruptcy. For those that were able to withstand the retail short-squeeze in BBBY, they may be able to cash in.
Take Away
If the "risk-on" trend among retail investors continues, discretionary institutional money has learned to pay attention. Self-directed investors should also pay attention to new activity, and any rotation from one cooling sector to one that is heating up.
In addition to following the news on Channelchek, investors can watch the Investor Movement Index (IMX) reported on the last weekend of each month by TDAmeritrade. For additional insight, it is always fun to check in on what the message boards are buzzing about and sorting through the serious and the nonsensical on Reddit and Twitter.
Managing Editor, Channelchek
Sources
https://imx.tdameritrade.com/imx/p/imx-pub/
https://realmoney.thestreet.com/jim-cramer/jim-cramer–15483915
https://www.yahoo.com/now/bed-bath-beyond-announces-87-080504711.html
https://www.marketwatch.com/story/theyre-baaaaack-retail-participation-in-the-stock-market-just-surpassed-the-gamestop-days-11675423836?mod=home-page