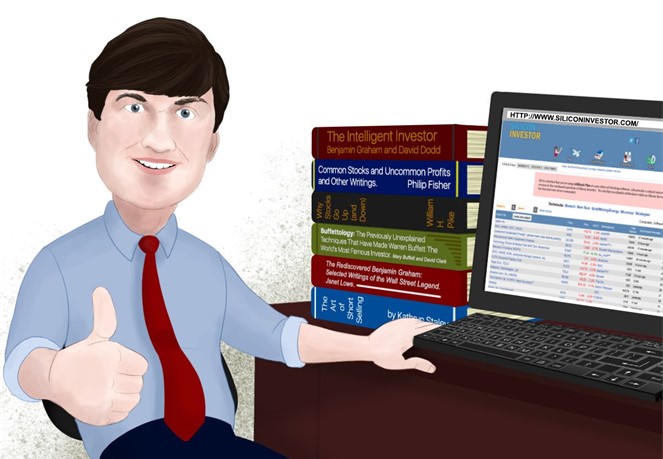 Scion's Michael Burry Owns Online Retailers, Tech Firms, a Mortgage Servicer, and a Detention Provider
GEO Group (GEO), the publicly held prison company organized as a REIT, again tops Michael Burry's public market holdings as of the end of last year. This is one of nine holdings; a few are on-again, off-again favorites of the revered hedge fund manager. If there is one theme in his positions, it is that of select online retail merchants. While the overall size of the positions as of quarter-end is known, these positions may not represent all investments, just those that are public and reportable to the SEC on form 13F. Burry famous for his portrayal in the movie "The Big Short" was not short any publicly traded securities as 2022 drew to a close.
Below are the nine holdings, in size order, copied directy from the 13F-HR filing. GEO, Alibaba, and JD.com are familiar to followers of Dr. Burry's holdings as this is not the first time they have appeared in his portfolio.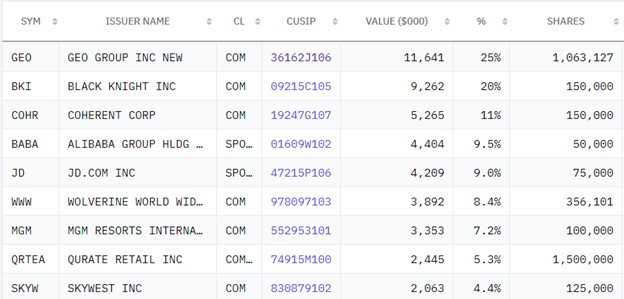 Geo Group (GEO) runs private detention systems. As shown below, at the end of the second quarter of 2022, it represented 100% of Scion Asset Management's public market positions. The current holding is roughly half the dollar amount of what it was three months prior.

Black Knight (BKI) is making its first appearance in the Scion portfolio. The mid-cap company provides mortgage and loan servicing products.
Coherent Corporation (COHR) has not been in the hedge fund manager's portfolio prior to the last quarter. The small-cap technology company is involved in communications networks for aerospace, automotive, life sciences, and various other electronics and systems.
Alibaba (BABA) is often described as the "Chinese Amazon.com". The only other time Scion held this well-known online retailer was during the second quarter of 2019.
JD.com (JD) is China's largest online retailer and largest internet company by revenue. Burry owned shares once before during the first quarter of 2019.
Wolverine Worldwide (WWW) makes active footwear and apparel. Brands include Sperry, Saucony, and Hush Puppies. The small-cap company has not been in the Scion portfolio previously.
MGM Resorts (MGM) is a mid-cap company that owns and manages hotels and casinos worldwide. This is the first time Michael Burry has owned this name.
Qurante (QRTEA), formerly Liberty Interactive Corporation, is yet another direct marketer through the internet and video. The small-cap company is headquartered in Colorado.
Skywest Inc. (SKYW) is Burry's smallest holding but still represents 4.4%. The airline has scheduled flights, including international, and also leases equipment for non-commercial flights. This is the first time the small-cap company has made an appearance in the Scion portfolio.
Take Away
Four times each year the SEC requires asset managers above a certain size to make a public filling of its portfolio.
Scion Asset Management is not exempt, but may, in addition to transacting in public securities, be creating positions in assets that are not required to be reported here. The reputation of Michael Burry has at times caused a lot of interest around less followed stocks.
Managing Editor, Channelchek